Versatile import and export options
In addition to live data connection (Live Access), in which the data remains in the source system, traditional data import to SAP Analytics Cloud is also possible. A number of data sources are supported. In addition to the usual suspects in the form of SAP ECC, SAP BW, SAP S/4HANA and SAP BPC, data sources from other providers such as IBM, Oracle, MySQL, MS SQL Server, Netezza, OData as well as CSV and Excel data sources can be connected. In addition, a number of cloud-based services such as Google Drive & Sheets, SAP Cloud Platform, SAP Business ByDesign, SAP Fieldglass and Hubspot can be used.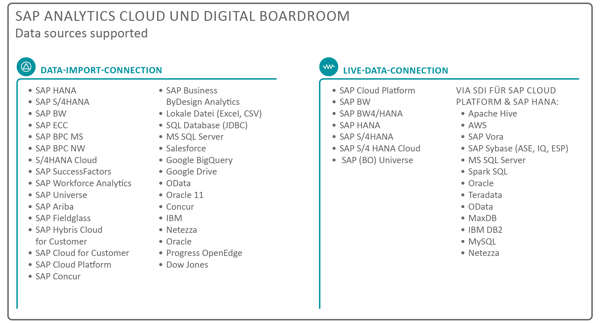 The values planned in SAC can then be exported to SAP BPC, SAP S/4HANA, SAP Integrated Business Planning (SAP IBP) and OData Services. Of course an export to a file is still possible.