Comments are one of the most frequently requested functions in a planning project. For a long time, SAP's offering lagged behind the demand. Some sort of workaround was always necessary to be able to offer this function. With SAP Analytics Cloud and BW4/HANA, this has changed fundamentally. Both offer integrated commenting functions, which we'll explore in this blog post.
Comments in SAP BW
With the introduction of BW/4HANA, DocumentStore was introduced as a new object. It can be used to store comments in BW/4HANA. With version 7.5 Service Pack 23, DocumentStore objects can also be created in BW on HANA.
Before you can create comments, you have to invest some time in the setup. First, the DocumentStore itself must be created. Then, in the Runtime properties area of the query, document support must be enabled and the DocumentStore must be assigned. Alternatively, the assignment can also be done in Analysis for Office.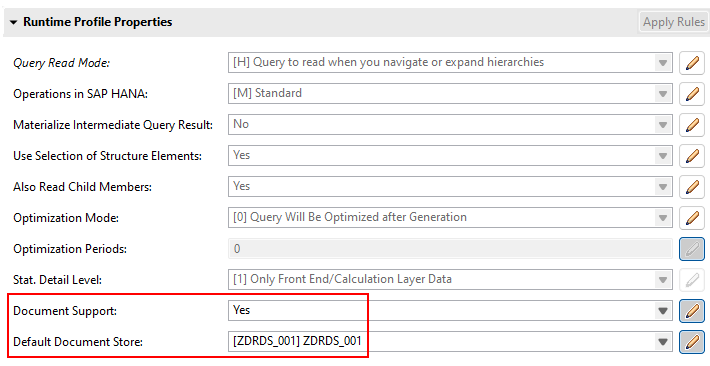 You can then create comments in Analysis for Office. You can edit the text in the comments and delete comments that you no longer need. You can also choose whether to show or hide the comments.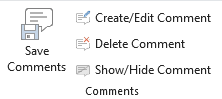 Comments can be added to the data cells in the crosstab. Comments for dimensions or the crosstab itself are not possible in BW. Unfortunately, you cannot comment charts created in Analysis for Office either. Within the query, you can assign comments to a hierarchy node or subtotal.
As long as the comments are not explicitly deleted, they are available in the system. For example, if you change the navigational state so that the cell with the comment is no longer visible, the comment is still retained. As soon as you change the navigational state so that the cell with the comment is visible again in the crosstab, the comment is also available again. The comments stored in DocumentStores can even be reused in other queries if the filter selection is identical. A comment is therefore visible in all queries that contain the same cell.
The text length of a comment is unlimited. A comment is identified by the name of the key figure and the filter for that key figure that affects the cell in the query. You can also assign comments to restricted and calculated key figures. In order to add comments to calculated key figures, you must define a technical ID. Make sure that they are unique.
A limitation is that comments cannot be created if the query uses the 0REQTSN request number characteristic. In contrast to SAP Analytics Cloud, backend modeling is also necessary.
---
Dashboarding with SAP Analytics Cloud -
Download the whitepaper here!

---
Comments in SAP Analytics Cloud
SAP Analytics Cloud (SAC) offers many comment options: in addition to the data point and dimension comments, the comment widget is available to add explanations to your story. Among them, the data point comments are the simplest option. All you have to do is enable the Allow Data Point Comments option in the Properties section of the Builder pane.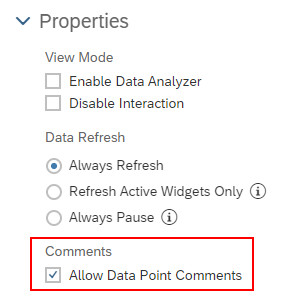 Comments for data cells can be created on different levels. You can also use hierarchies. In contrast to BW, however, comments on totals are not supported.
If the hierarchy levels are collapsed, a white icon indicates that comments are available on the lower level. This is not the case in BW.

A comment in SAC can contain a maximum of 10,000 characters and is available across stories. In SAP Analytics Cloud, you can also reply to comments from other users to get a discussion going. Speaking of discussions - in SAC, another collaboration feature is available - in discussion threads, you can discuss a topic together with other users and thus make informed decisions.
Unlike comments in BW, which are limited only to data cells, SAP Analytics Cloud offers more freedom. In addition to data cells, tables and charts, you can also add the comments to the following widgets in a story:
Geo map
Image
Shape
Text
RSS reader
Web page
R visualization
Clock
As with BW, there are some restrictions to consider with SAC. As already mentioned, comments cannot be created on totals. In addition, you cannot comment on tables in a Digital Boardroom presentation. Also, if you use containers to group tables, you cannot create comments. Furthermore, you cannot add comments to table cells from merged models or live data models. Exceptions to this are live data models that are based on SAP BW or SAP BPC. These are covered in the next section.
Comments with SAP BW and SAP BPC Live models
As you can see, the comment function in SAC is very versatile. However, commenting was initially reserved for models that physically stored data in SAC. Commenting on data displayed via a live connection was not possible until now.
As of release QRC2 2023, SAP Analytics Cloud offers the possibility to comment on data provided via a BW live connection or a BPC live connection. Technically, the comments are stored in the DocumentStore, as described in the first section. SAP Analytics Cloud serves as the user interface for entering the comments. You can use both reporting queries and input-ready plan queries.
To use this feature, your BW system must have the following service packages:
BW 7.50 on HANA, SP23
BW 7.57 on HANA, SP00
BW/4HANA 2.0 SP07-SP12 with note 3244228 or SP13
BW/4HANA 2021 SP00-SP03 with note 3244228 or SP 04
BW 7.50 on HANA, SP23
BW 7.57 on HANA, SP00
BW/4HANA 2.0 SP07-SP12 with note 3244228 or SP13 and higher
BW/4HANA 2021 SP00-SP03 with note 3244228 or SP 04 and higher
Integrated comment functions - Our Summary
As you can see, SAP has improved significantly over the years and offers extensive commenting capabilities. Whether you are using SAP Business Warehouse, SAP Analytics Cloud or a combination of both, you no longer need to resort to workarounds to add comments to your reports or plans. Whereas SAC offers much more flexibility while requiring less effort to set up.
Do you have questions about this or other topics? Are you trying to build up the necessary know-how in your department or do you need support with a specific question? We will be happy to help you. Request a non-binding consulting offer today.