Despite the pandemic, there was another extensive update for the SAP Analytics Cloud (SAC) towards the end of 2020. In addition to numerous small optimizations such as an extended translation function, there were also some major highlights that we would like to outline in this article.
Analytics Designer
1. Cascading Style Sheets - CSS
After a long wait, CSS classes can now be used globally or in conjunction with individual widgets. This opens up new visual design possibilities outside of the "click options" presented by SAP and significantly simplifies the implementation of a responsive design. In addition, an essential function from a design perspective - is now also represented in the Analytics Designer.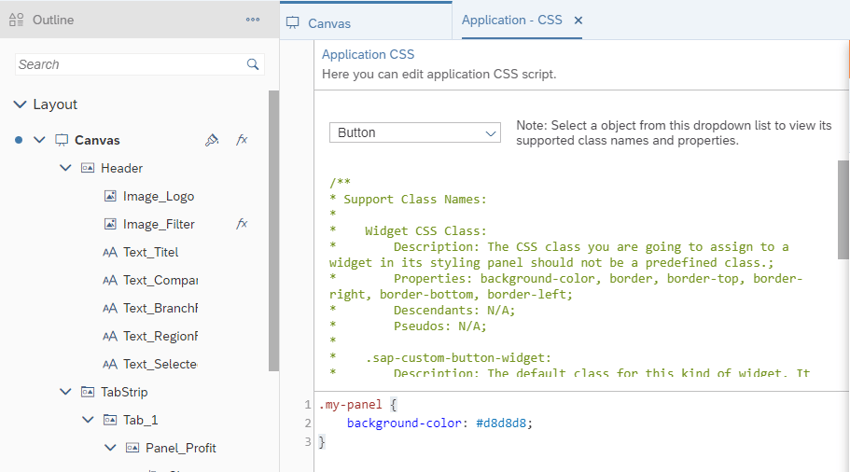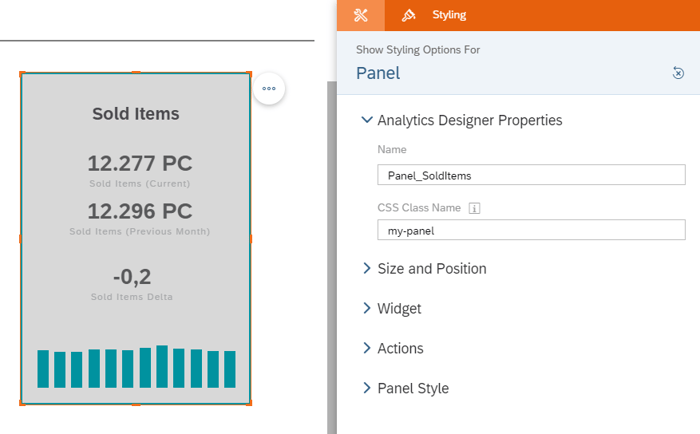 2. Value Driver Tree - VDT
The need for value driver trees has been covered for a long time by third party vendors, such as: VisualBI with their product VALQ. With the SAP Analytics Cloud Update in Q4, SAP's own value driver tree widget has now been further expanded. This can be used to map budget and planning scenarios in the Analytics Designer. By adjusting individual nodes in the value driver tree, "what if" scenarios can be easily executed. Even though the widget is not nearly as powerful as the third-party extensions, it is an excellent introduction to displaying data in and working with value driver trees.
3. Flowpanel
Flowpanels facilitate the creation of responsive dashboards enormously. Especially if they are to be executed on different devices. For example, the content of the flowpanel is displayed slightly smaller on a tablet or smartphone than on a monitor. The points (breakpoints), from which the content should be displayed smaller, can be defined freely and without programming effort. Previously, this function could only be adapted by many lines of code and is now an "out-of-the-box" feature.
4. Always initialize widgets when starting the dashboard
For each widget, you can decide whether it should be initialized on startup or not. This setting can be used to optimize the performance of the dashboard.
5. Integration and improvement of the SAP Analytics Cloud Mobile iOS app
On the one hand, dashboards of the Analytics Designer can now be integrated into the app, on the other hand, the API for notifications to the app has been extended.
---
The ultimate Comparison between SAC and Lumira Designer
---
Data Integration
Support for live connections between SAP HANA Cloud and SAP Analytics Cloud
Duplicate rows can be removed from a dataset with a single button click
The aggregation type for measures in the dataset can be changes
Data visualization
Blank values and zeros can now be suppressed in SAP BW tables
Planning
Validation warnings should help to avoid errors in the planning process. Based on the underlying data model, cells that cannot be filled with plan values are marked with a dash (-) and contain a reference to cells that can be filled with plan values.
Introduction and revision of some script functions in the Data Action area. The LAST() function was introduced, in this context improvements were made to the FIRST() and PREYEARLAST() function. The ATTRIBUTE function can be used without RESULTLOOKUP. All similar functions that return numeric values have also been revised.
In addition to the highlights mentioned here, there were of course also many smaller improvements.

The optimizations in the Smart Assist area, especially Smart Insight, are pleasing. The Smart Insight feature is an interesting development that was not yet "complete" in the past and is increasingly gaining in maturity.

Improvements have also been made to the Excel AddIn for Microsoft Office, which is used in many companies.
Conclusion
Even in times of pandemic, SAP is working hard to enhance the SAC. The improvements in the fourth quarter of 2020 were numerous. In addition to many small 'quality of life' improvements, there were also some long-awaited features, as well as the continuous development of good ideas.
Unfortunately, the databinding feature for Custom Widgets, which is important for many SAP partners, was postponed. So for the time being, filling custom widgets with data unfortunately remains tedious programming work and gives away a lot of potential for third-party extensions. SAC also struggles with performance problems in some places. There are new ways to optimize performance, but in most cases, especially for live connections, the performance improvement has to be done in the BackEnd.
Overall, the Q4 update convinces with many new features and encourages users to try them out.