BW version 7.5 provides a new setting "Always disaggregate to all valid combinations". In this post, I'll explain what it's all about.
You will find this setting in the Planning section of BW Modeling Tools. When activated, the disaggregation is always applied to all occurrences of the respective characteristics which are valid according to the characteristic relationships.

This setting enables disaggregation without data, even if the input-ready cells are still empty in the planning process. A typical use case for this is a query in cost center planning, which is aggreagated to one time characteristic.
---
Planning Tools compared - SAP BW IP vs. BPC vs. SAC
---
If you activate this setting, the access type for result values settings for every characteristic is overwritten. This means that all valid combinations (in accordance with characteristic relationships) are created for every disaggregation and then disaggregated on these combinations. This also applies if the query only displays posted data.

Therefore, if you use this setting, you should make sure that the number of combinations created remains within manageable limits. Please restrict the filter of the query accordingly.
To illustrate how this setting works, let me use the following example. The sales for company code 1000 are planned in the query. Besides, it is possible to enter the quantity. We've turned on the Disaggregate to all valid combinations setting and specify the amount on the totals row to break them down.

Although initially only company code 1000 is visible, the entered value is broken down to all valid company codes. As shown in the following screenshot.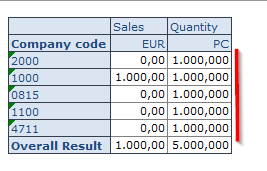 Photo by Italo Melo from Pexels