The employment market - and this is nothing new - has experienced a significant change in recent years.
In the past, only job seekers applied for a job with the companies, but nowadays the tide has turned and now also the companies are applying for applicants and presenting themselves to them as an attractive employer.
We are aware that nowadays no one chooses an employer just because of a free position and an attractive salary. With this article we would like to give an insight into what is important to us and what we have defined as our corporate culture.
For us at NextLytics, it's all about community, fun and team spirit across all levels, in addition to appreciation, consideration and growth. We try to make this point clear in our daily work, in our strategy and in dealing with our employees. For instance, we are aware that the demands on work tasks are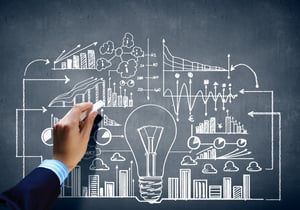 growing and developing over time. Is there a variety of work tasks, is continuous development and a growing into the role - in our case from junior to senior consultant - possible? Is there a possibility to set content focuses (e.g. becoming a product specialist for SAP Analytics Cloud) or to add new work subjects? We know that change, development and challenges are important in today's world, and accordingly, we design work content flexibly and avoid fixed role patterns. At NextLytics, you will definitely not find recurring, monotonous tasks, rigid structures and a "we've always done this"-mindset.
Talking about "continuous education" - we know that not only job seekers value ongoing development. It is also important for our employees to know that they are supported and enabled by us to be able to face changing tasks and future challenges. At NextLytics you can help shape your training package and take part in it individually. Success and growth depends on the skills and abilities of our employees and we are happy if everyone contributes to this.
In line with the concept of continuing education, we at NextLytics AG also place great value on mentoring employees.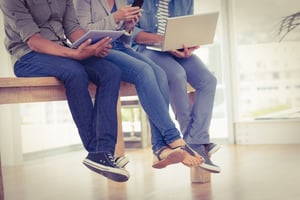 Contrary to the assumption that this is only a short-term measure for new employees during the introductory period, we also believe that someone still can learn a lot from an experienced employee even after two years of belonging to the company. We also think that mentoring is not a one-way process - everyone is sometimes a mentor, sometimes a mentee, depending on the topic. Knowledge is as such not limited to experienced people. Mentees also have valuable knowledge to share and pass on. This is why mentoring is very popular in our company and does not end with the completion of an induction period.
However, working tasks, training opportunities and mentoring on its own will not keep people satisfied in the long term if it is forgotten that there is also a life aside from work. For us, appreciation and consideration do not end with the end of the working day. We take your private life and your work-life balance seriously - in our company there is no permanent availability in the evening or at the weekend. At our place you can work from home and you will be given enough time for rest and relaxation. We are not circulating around our employees from 09:00 to 17:00 and check availabilities. We put trust in our employees and we would like to support them with flexible working hours to be able to react to private bottlenecks if necessary.
Naturally, where a lot of work and learning takes place, fun should not be neglected. The best recipe against stress is humour and we have a lot of it - meaning humour. :-) We enjoy team events and shared moments, spending time together and letting work be work for a while. According to the motto "We don't live to work - we work to live."
Would you like to see what working for us is like? Visit our career website or drop us your contact details so we can get in touch with you.