Value driver trees can simplify planning scenarios in your company. The classic approach of value-based management is not new and has been in the minds of companies for several years. However, up to now this approach has been too complex to be implemented with IT systems. Are value driver trees now experiencing a comeback thanks to ValQ?
In the previous blog, we took a quick look at Value Driver Tree and explored its origins dating to the 1920s. While specific sectors such as mining have seen strong value driver tree adoption, it is only recently that enterprises have taken a renewed interest in the framework.
Let's look at the top 4 reasons why Value Driver Trees are making a comeback:
(1) Advancements in computing:
A Value Driver Tree can be highly resource-intensive in terms of computing for typical enterprise use cases. The reason is that it involves a chain of calculations, often supported by a series of resource-intensive read-write database actions. This has traditionally required a stronger server configuration to handle the load. When you look at trees with 1000+ nodes and multiple users, the complexity increases exponentially.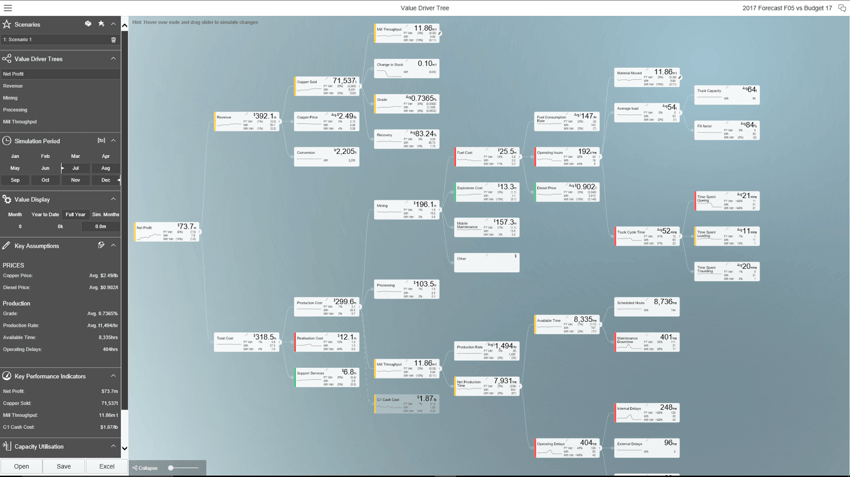 In the recent years, innovations such as in-memory computing have tremendously increased capabilities of applications and databases. Cloud computing has made infrastructure scalable on demand. Transactional and analytical applications too are riding the in-memory wave and increasingly providing live connectivity options to popular data stores.
Products such as Visual BI's ValQ use high-performance embedded javascript engine that function exclusively on the browser – eliminating the need for backend processing – and still support 1000+ nodes with ease.
(2) Innovations in visualizations & UX:
The appeal of a Value Driver Tree lies in the visual and intuitive arrangement of drivers that capture their relationship & interaction. However, it was not until a decade ago that dedicated visualization software started becoming common in enterprises. Even though computing power was still available, visualization best practices lagged behind thereby hindering user excitement and adoption.
Since then, trends such as design minimalism and touch-enabled interactions have brought humans and machines much closer.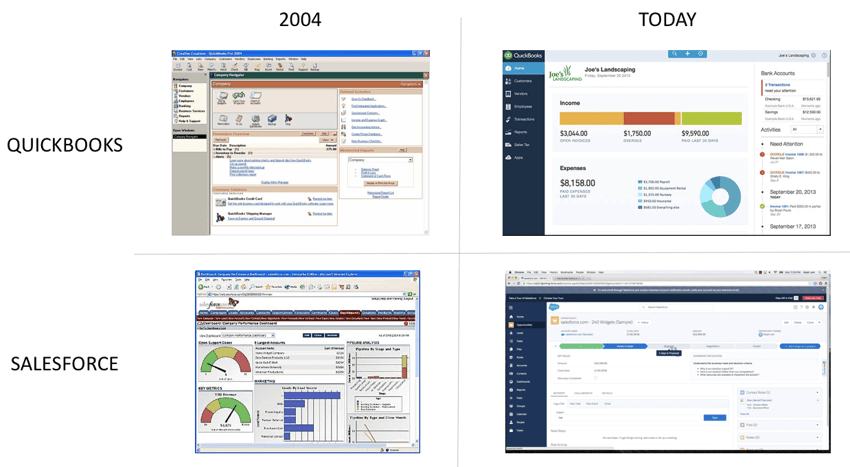 (3) Emergence of Self-Service culture:
The increasing adoption of visualization and self-service BI tools such as Tableau and Power BI expanded the horizons of non-technical business users and executives over the last few years. Even decision-makers who preferred to receive their reports in a printed format on their desk every week (or every morning) started getting used to touch-click-drag-pinch gestures.
While this has not made them technological wizards, it has definitely made them receptive to try out newer solutions, as long as it helps them become self-reliant (but without having to go through a steep learning curve).
(4) The need for enterprise planning to be dynamic:
While business modeling & planning have always been a priority for enterprises, their evolving needs require planning & simulation capabilities to be more dynamic than ever before. This implies that enterprises can take strategic actions and re-forecast quickly, rather than wait for the decision cycles to align with the annual budgeting & monthly forecasting processes. Value Driver Trees that are lightweight, agile & nimble serve this need very well.
There is a secondary benefit in leveraging dynamic value driver trees. They can not only support top-down planning needs requiring a quick turnaround, but also complement bottom-up enterprise planning that leverages platforms (such as SAP BPC/IP) for a more detailed analysis. The quick up-front time invested in building the first few iterations using Value Driver Trees can save a lot of subsequent time invested in bottom-up planning tools – thereby delivering a big value add for enterprises looking to shorten their overall planning & budgeting cycles.
All of the above reasons have made the situation ripe for value driver trees to make a comeback.
* * *
Value Driver Trees: How things will be different this time
Until the 1990s, the evaluation, implementation, data gathering, performance measurement and monitoring of popular value management techniques required a tremendous amount of time, effort and attention from enterprises. Logically, such initiatives had to be blessed by the C-Suite, and they often required the guidance of leading management & strategy consulting firms.
Contrast that with today, where the four reasons discussed above are making it possible for even line managers and mid-level executives to apply value management techniques to their departments and teams. This is expected to drive Value Driver Tree adoption at all levels – enterprise, departments and teams.
* * *
The visual shown above has been generated using Visual BI's ValQ.
ValQ is Visual BI's solution for business modeling. It is an innovative self-service business planning and simulation solution that lets you instantly visualize and optimize profitability & growth. ValQ is designed to enable executives, decision-makers and business analysts to seamlessly connect to data to make effective decisions. ValQ is fully customizable, mobile-compatible and has a highly engaging and intuitive interface. It is now available for SAP and Microsoft Power BI.
In our other blogs, we'll review more topics of interest such as tips on getting the most out of value driver trees, best practices, how-to recommendations, software evaluation considerations, exciting features of ValQ and more.
This text was provided by our partner Visual BI