Datasphere [formerly known as SAP Data Warehouse Cloud (DWC)] is the future of data warehousing for SAP. This much became clear on November 16, 2021 at the latest, when Fabian Hartje, Head of Product Management for Data Warehousing addressed the SAP community at the in-house virtual annual trade fair "TechEd 2021". With a presentation titled "Explore the Present and Future of Data Warehousing from SAP," many users were eager for information on SAP Business Warehouse (BW), but the term "Business Warehouse" didn't even come up once. Instead, Mr. Hartje devoted himself to just one topic: SAP Datasphere.
Datasphere is a cloud-based data warehouse solution from SAP. This cloud architecture makes it possible to replace the traditional on-premise infrastructure and instead rely on hyperscalers (e.g. Amazon Web Services - AWS). Hyperscalers manage a huge network of data centers and rent out the use of computing capacity. As a result, they leverage classic synergy effects, such as economies of scale, to enable significant cost savings that are passed on to customers. This also enables the elasticity of SAP Datasphere, i.e. the ability to use only exactly as much system capacity as is currently needed. This means that peak load situations can be handled. Datasphere is also an SAP-managed solution (Software as a Service - SaaS). This brings further cost savings, as fewer IT administration staff are required, but also a shift in control - from the customer to the operator SAP.
To evaluate the maturity of the product in practice, we set up test access to an SAP Datasphere instance and created various scenarios in the system. We summarize our most meaningful impressions for you: SAP has taken advantage of the paradigm shift and with Datasphere, compared to Business Warehouse, has realized a strong harmonization and simplification of the data modeling process. As with the change from BW on HANA to BW/4HANA, the number of object types has shrunk and, as with the change from LSA to LSA++, the architecture will become leaner. Only a handful of object types exist, each with a specific and heterogeneous architectural purpose. Tables are used for data ingestion, while views (graphical and code-based) are used for the virtual or reporting layer - at least in the "Data Builder", the Data Engineer perspective of modeling.
Indeed, SAP is also following the no-code/low-code trend and offers the same modeling capabilities in an alternative business-user focused UI, the "Business Builder". The integration of these two perspectives is highly disconnected. Objects are not shared, only the respective configuration is copied if desired and a mapping is established. This is to enable independent modeling: If the data layer changes, the business layer remains functional and only a mapping may need to be adjusted.
On the other hand, there is a strong integration to the frontend as well as to the backend. Even if many specific adapters are still being worked on, at least ODATA is already available today to ensure the connection of the most common reporting applications, but we are particularly convinced by SAC as a front-end tool. The seamless integration, the uniform design language, the advantages of a homogeneous vendor selection and the interaction with Datasphere in terms of functionalities, make SAP Analytics Cloud (SAC) the product of choice for consuming Datasphere data models.
---
Watch the recording of our webinar:
SAP Datasphere - Is it ready for you?
---
Even the UI is a testament to the solid integration, because the user can switch between SAC and Datasphere with just one click.
In the backend, the in-house database SAP HANA Cloud can be found. SAP HANA Cloud is similar to its on-premise counterpart in every respect. Those who have dealt with topics such as HANA Native Development and HDI Containers will quickly find their way around the cloud version as well. The melding and reliance on SAP HANA has even increased, as Datasphere relies primarily on HANA technologies like Smart Data Access (SDA) for data ingestion methods.
Of course, a young product like Datasphere can't match the maturity of the Business Warehouse established through decades, and yet that's the question on the minds of most of its customer base. Can Datasphere replace my BW system? As of November 2021, the answer is clear: not at the moment. A look at the SAP Datasphere Roadmap is enough to get an overview of the work to be done. A large number of critical features are still outstanding. One of the biggest open issues is a possibility to migrate, especially ABAP extensions, which are used in the majority of Business Warehouse systems.
Although it is possible to continue using an established BW system and merely establish a connection to a new Datasphere system, the advantages of Datasphere are hardly used with this method. With the "BW Bridge", however, SAP is directly introducing a central tool that should enable a tool-supported upgrade path for companies with a BW system as early as Q1 2022.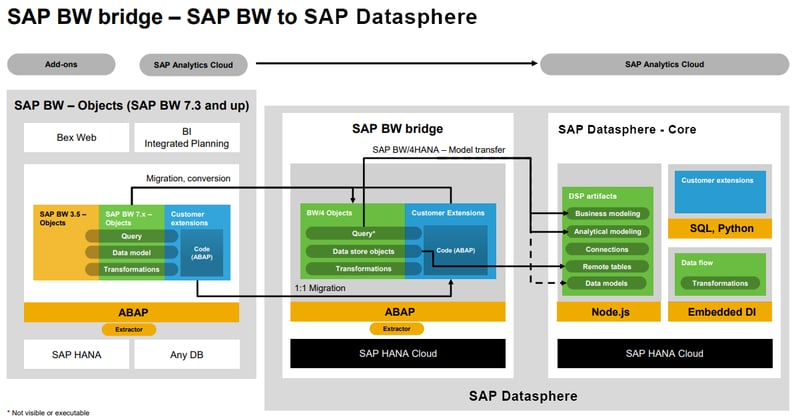 We will probably have to be patient for the details, but the general approach can be derived from the architecture diagram shown by SAP. A separate cloud instance is created to which the data, modeling and ABAP extensions are migrated. The reporting layer (queries) is then transferred to Datasphere data models. Persistent objects (ADSOs) are not converted, but are virtually connected as data sources (remote tables) in Datasphere. Furthermore, it is suggested that ABAP will hardly play a role in future innovations and extensions. Instead, SAP will rely on SQL, Python and Node.js.
But what about the future of BW/4HANA? What about customers who don't want to move to Datasphere? Surprisingly, we get a concrete answer from Mr. Hartje here. He reiterates that support for BW/4HANA is assured until at least 2040 and that the product will remain as a legitimate option for customers who do not want to use a cloud offering. But when asked if it is SAP's strategy to eventually replace BW/4HANA with Datasphere, we do not get such a clear statement.
Ultimately, BW/4HANA use is still guaranteed for the foreseeable future, but innovative new features are probably not to be expected, and in our view, in the medium to long term, everything points to the Datasphere taking the place of SAP's primary data warehouse solution.
Do you have questions about this or other topics? Are you trying to build up the necessary know-how in your department or do you need support with a specific question? We are happy to help you. Request a non-binding consulting offer today.