SAP maintenance views are still a popular way to provide business users with an easy way to maintain table entries. In this scenario, SAP GUI views are generated for table maintenance. These views can also be called via a dedicated transaction.
How can you generate your own table maintenance view?
You can create the table maintenance view in just a few steps. The prerequisite for this is that the setting Display / Maintenance allowed is set for the table in transaction SE11 (ABAP Dictionary Maintenance). You can make this setting in the Delivery and Maintenance tab.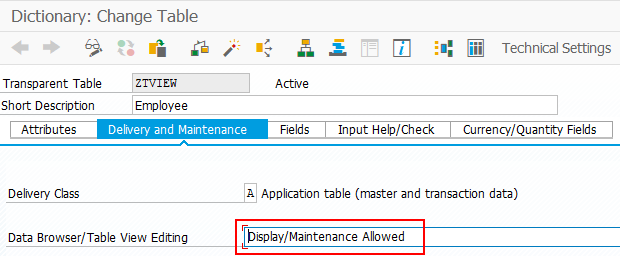 Afterwards you can generate the maintenance view via Utilities → Table Maintenance Generator.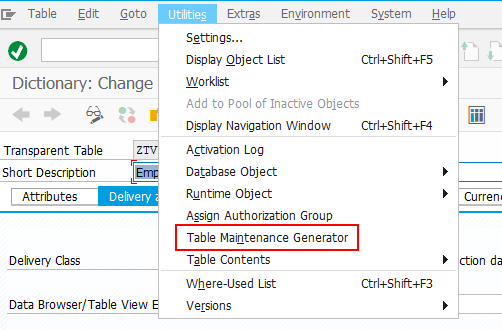 In the next screen, you must define the Authorization Group and the Function Group. Afterwards, you can use the Find Scr. Number(s) function (1) to let the system propose maintenance screen numbers. Then you can generate the table maintenance view via Create button (2).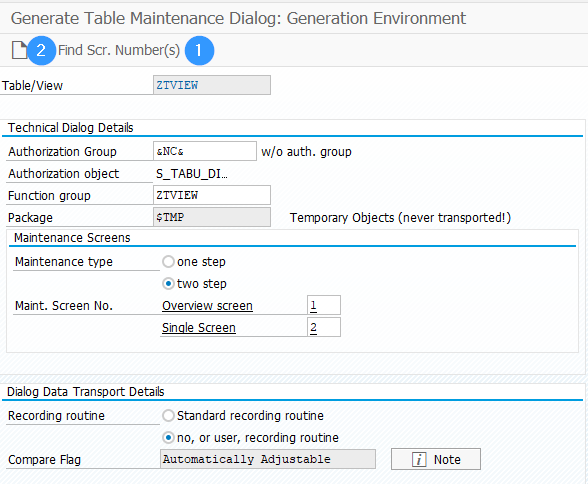 After you have defined the packages for the object catalogue entries, you will see the "Request completed without errors" message.
After that, you can maintain entries in the table using the SM30 (Maintain Table Views) transaction.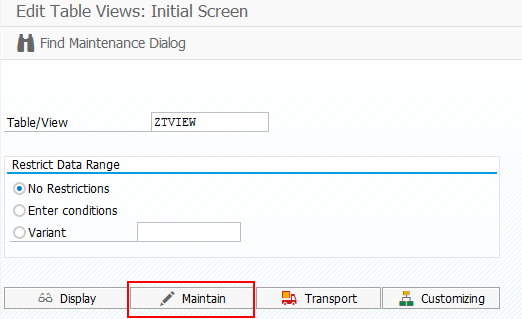 A simpler alternative
Table maintenance views can be generated relatively fast, but have no real future with SAP GUI. SAP is turning more and more away from the SAP GUI as a user interface and is increasingly shifting its functionalities to the Web or Eclipse. And also the business users meet the old-fashioned SAP GUI with disapproval.
If you require a future-proof frontend, NextTables could be an alternative for you. An easy-to-use, intuitive user interface lets business users maintain tables on all devices. Thanks to the built-in authorization check, the data is always protected against unauthorized access.
NextTables makes inline editing, i.e. direct editing of cells, possible. In addition, multiple records can be changed, deleted or copied at once. Large amounts of data can be easily inserted into the table via the clipboard.
User templates facilitate an easy use of NextTables. They save all the settings of a table, such as the order of columns, sorting, filters, etc. Each user can create his own templates, which are available only to him. In addition, an administrator can create global templates, which can be seen and used by all users.
NextTables is quickly set up and comes with a wide range of table maintenance features. These can also be extended by delivered Business Add-Ins (BAdIs) and flexibly adapted to customer needs.
---
Master data maintenance in SAP - Five tools in comparison
---

In addition to table maintenance functions, NextTables offers a variety of import options. NextTables allows you to upload data from various sources such as Excel, CSV or Clipboard. Different validation options are already implemented to eliminate the most common upload errors. For example, currency symbols are automatically removed from the amount fields. These validations can be easily extended to include customized validation mechanisms.
If you cherish a future-proof, easy-to-use interface and want to provide your business department with a simple and easily configurable solution, then NextTables can be an alternative for you. Would you like to learn more about NextTables? Ask now for your free personal test version. If you have any questions, we are always at your disposal.
Image source: Pexels, CC0 License