It's a familiar scenario: You open your dashboard and realize that master or plan data has been entered incorrectly. With NextTables, it's easy to correct this error: just open NextTables, select the appropriate DSO, find the record and change it.
But it is even easier! NextTables can be embedded directly into dashboard tools in just a few simple steps. It doesn't matter if it's SAC Stories, Analytic Applications or Tableau. The required NextTables Page can be integrated into the dashboard In less than 5 minutes.
Let's take a look at what this can look like:
We open our Next Juice dashboard for sales planning and notice that the planning values for May are missing because they haven't been entered yet.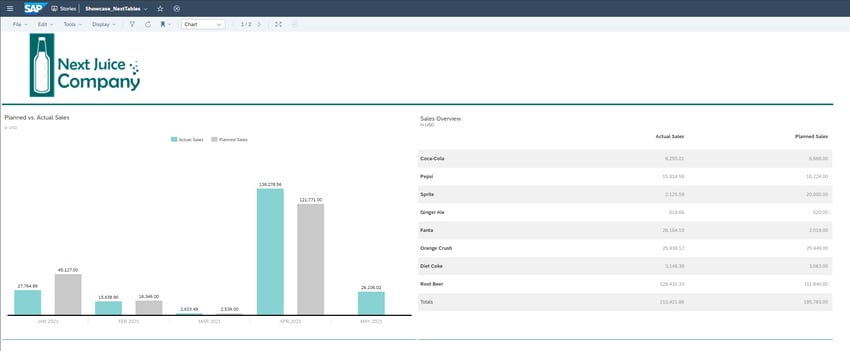 We can easily switch to the next dashboard page where the corresponding table is already stored and add the missing data via the "Add" or "Copy" button.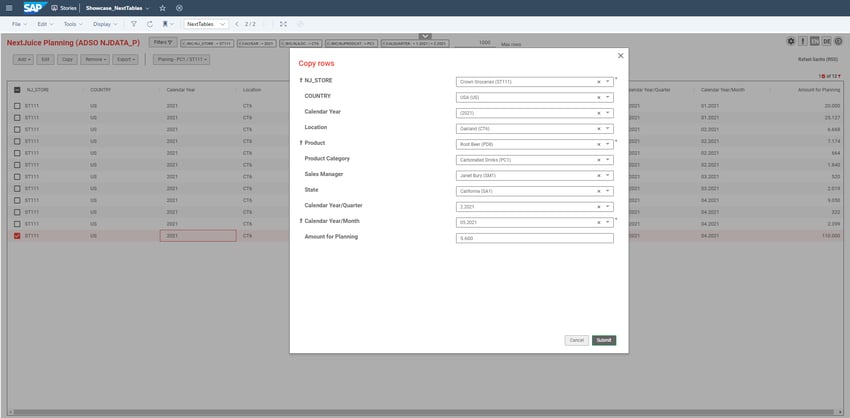 ---
Master data maintenance in SAP - Five tools in comparison
---
After the entries have been saved, we can switch back to the first dashboard page. If no automatic update has been set up in the dashboard, we must update the dashboard manually. To do so, we simply click on the corresponding icon in the header.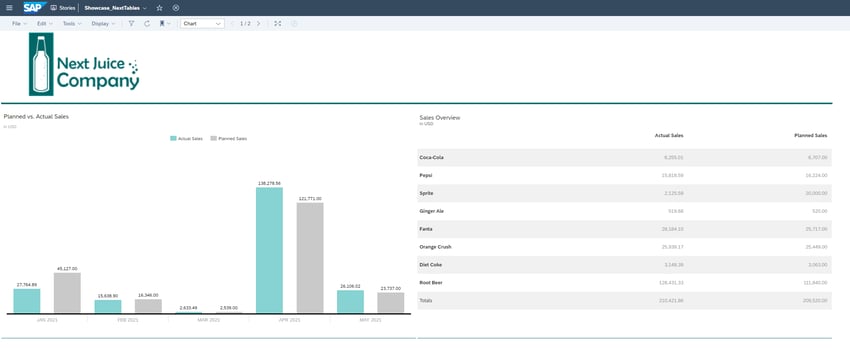 With a few simple steps you can also configure an automatic refresh. To do this, click on the "Refresh" icon in the editor and select the "Configure Auto Refresh" menu item. The update cycle can then be configured in the following pop-up.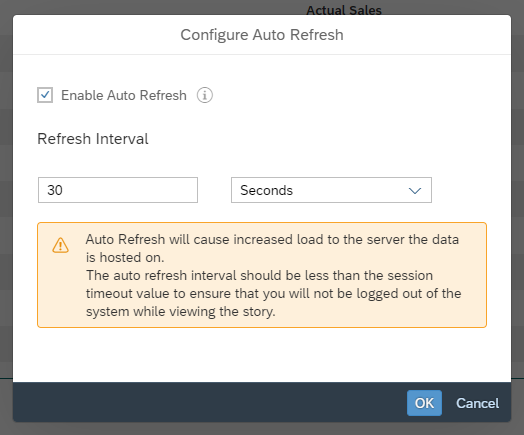 As you can see, there are scenarios where it is convenient to integrate NextTables directly into the dashboard. But besides simply embedding the tables of NextTables, other scenarios can be covered as well. For example, it is also possible to apply dashboard filters when jumping from the dashboard to a specific NextTables table. We explain which options are available and how they are technically implemented in our Knowledge Base article: NextTables URL Parameters.
Would you like to learn more about possible applications of NextTables, discuss exciting use cases during a live demo, or exchange ideas about innovative dashboard solutions? Don't hesitate to contact us!