Every year at TechEd, SAP presents adjustments and innovations to the strategy and roadmap of its in-house products. This year, too, there were numerous keynotes and sessions about the products.
We took a look at everything and have compiled here what you now need to know about the strategy and roadmap for SAP Analytics Cloud (SAC) and SAP Datasphere [formerly known as SAP Data Warehouse Cloud (DWC)]. Additionally, we have analyzed what the Business Technology Platform (BTP) means for the future of the on-premise products SAP Business Warehouse (BW) and SAP Business Objects (BO).
General Reporting-Strategy
If we had to name THE buzzword of this year's TechEd, it would be BTP (Business Technology Platform). That's what SAP has christened its cloud ecosystem. There was actually no session in which BTP was not mentioned several times. BTP plays a central role in SAP's strategy, because tools that are part of BTP are being developed and sold at full speed. The aim here is to achieve a high adoption rate as quickly as possible and to get customers away from the older on-premise products (SAP BO, SAP BW).
The BTP includes many SAP products, which is structured by SAP itself using personas. We focus here on the "data and analytics" part of the BTP: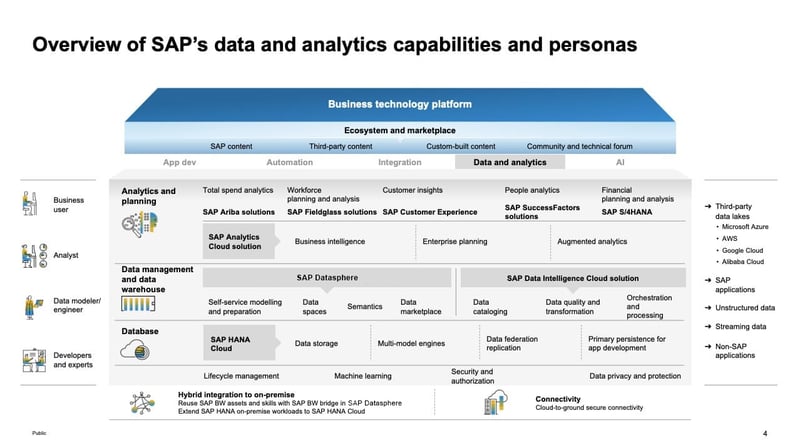 As you can see in the diagram, the "Data and analytics" part essentially consists of four tools: SAP HANA Cloud will be used as the database. SAP Datawarehouse Cloud will be responsible for data models. For data transformation, processes and data cataloging, SAP Data Intelligence Cloud will provide. Reporting will be handled by the Analytics Cloud.
The future of SAP BW
As you may have noticed, SAP BW is almost completely missing from this diagram. The only reference is at the bottom left, where a bridge from SAP BW to Datasphere is described. However, at another point in the presentation it becomes clear that the bridge also serves to accelerate the rollout of Datasphere to customers. In addition, there is talk here of a transition from SAP BW to Datasphere.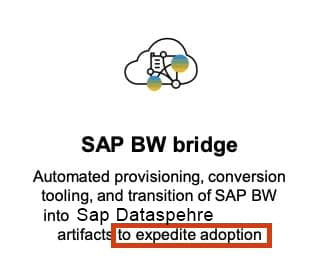 If you are panicking now, it is unfounded. SAP guarantees support for BW until 2040. But by now it should be clear to everyone that Datasphere is the future of data warehousing at SAP. All development power and innovations will now be focused on Datasphere - unfortunately, the BW will miss out on great new features.
SAP BO will be rationalized
As announced a long time ago, many products on the SAP BO BI platform will soon fall out of support. First and foremost, this includes SAP Lumira, the predecessor of SAC. Lumira will no longer be supported as of 2028.

SAP Analytics Cloud -
Story 2.0
History repeats itself:
If you've been around the SAP BI FrontEnd environment for a while, you probably remember the merging of SAP BO Lumira and SAP BO DesignStudio. Here, SAP noticed that it would make sense if a self-service dashboard from the business department could be polished by scripts from IT. A little over 5 years later, SAP realizes that they made the same mistake in SAC and are now merging the self-service tool and the IT-heavy scripting tool. Lights on for Story 2.0.
As of Q1 2023, all Story and Analytical Applications that have already been transferred to the optimized design/view mode will automatically run under Story 2.0 without further intervention. Instead of separate tools as before, Story 2.0 now combines Stories, Analytical Applications, and Boardroom Presentations. A distinction is made between these 3 tools in Stories with switchable modes: Design, Develop, and Present.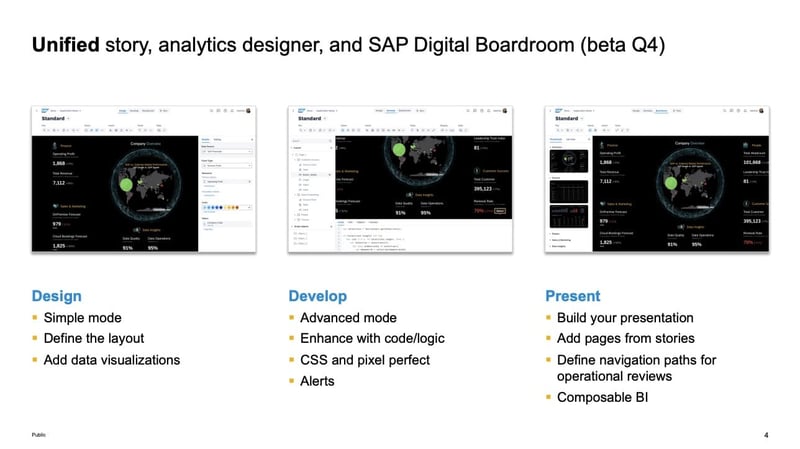 By merging, a smooth transition becomes possible. The business department can use "Design" to create reports without IT knowledge or to create a prototype. Then IT can take over, simply switch to "Develop" mode and enhance the report using more complex scripting and layout options.
This also has advantages for the course of a project. It is no longer necessary to decide right at the beginning of a project whether Stories or Analytical Applications are needed for the desired result. With the release of the update, every project starts in Story 2.0 and you can switch back and forth between the two tools at any time.
We are curious to see how the implementation of Story 2.0 will look like and what kind of limitations it will bring. If we also add experiences from the merger of Lumira and DesignStudio, we remember: Lumira 2.0 had many bugs and limitations in the beginning. Only with the later Lumira versions 2.2 and 2.3 the tool became really mature and strong. We hope that Story 2.0 will be a significant upgrade over previous SAC tools even in earlier iterations. As soon as it is released, we will take a critical look at SAC Story 2.0 and, of course, report on it here on the blog.
---
Watch the recording of our webinar:
SAP Datasphere - Is it ready for you?
---
Planning
In addition to the strategic innovation of Story 2.0 in Q1 Release 2023, which will be visible in the relatively short term, SAP will continue to focus very strongly on planning in the future. SAP has already shown how this works with integrated workforce planning based on financial planning and success factors. Here, SAC merely takes over the data from the HR and financial systems. The (dis)aggregation takes place entirely in SAC.
SAP also plans to do the same with revenue planning, which can then be used directly for financial planning integrated in S4/HANA. This in turn can then serve as the basis for the workforce planning already described. The integration with Datasphere will also be expanded more strongly with regard to planning.
SAP Datasphere
Datasphere will replace SAP BW in the long term. SAP is trying to make this palatable to customers with new innovations.
Our favorite: the Data Marketplace. SAP has created a platform for importing third-party data into your own Datasphere at the click of a button. This could be geographic or social media data, for example: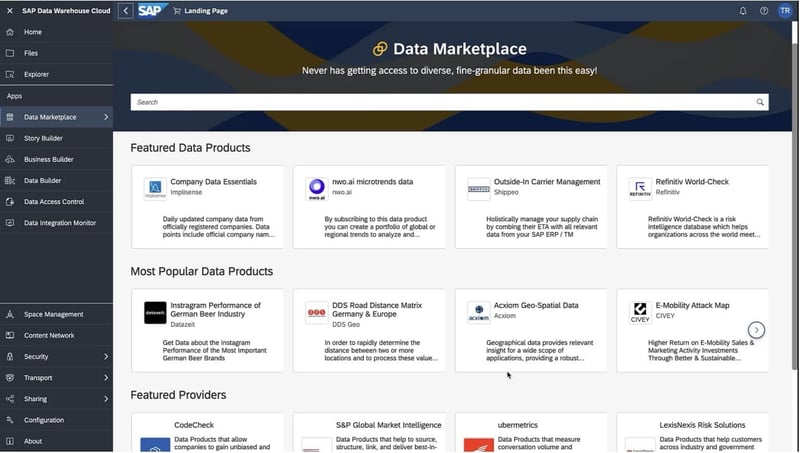 This means that for some third-party data, no API connection via code (as is the case in SAP BW) is necessary. Of course, it remains to be seen how many third-party providers actually offer their data via Datsphere. If the offering turns out to be meager, the feature could fail.
Another feature to get closer to BW is the ability to create analytical data models, also called cubes in the screenshot (throwback to 2010 anybody?), in the future. So far, only relational data models exist in Datasphere.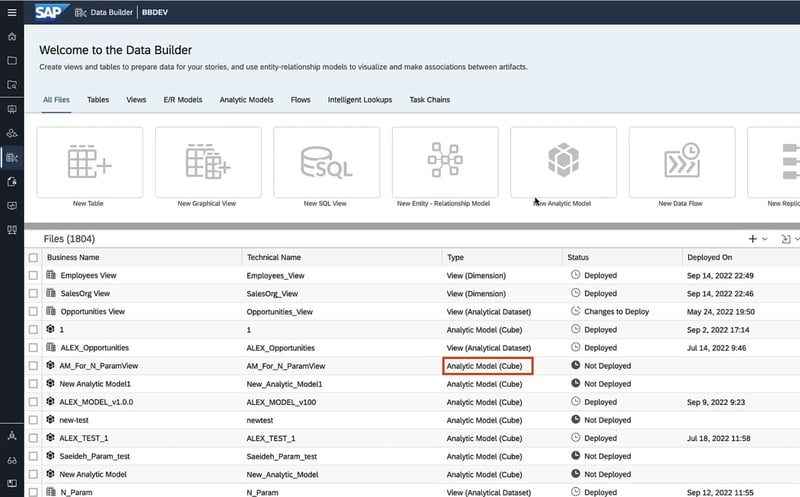 Following the BTP strategy, Datasphere will very soon also become the leading substructure of SAC: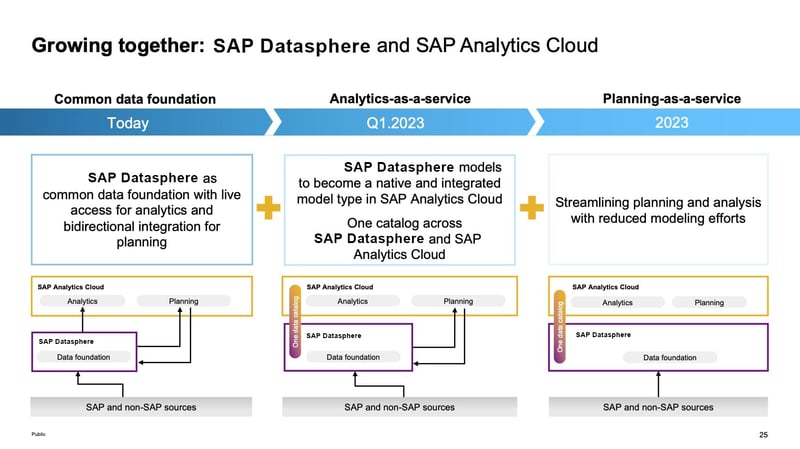 As early as 2023, both cloud solutions are to have a shared data catalog for analytics and planning. So in the future, it will no longer be necessary to create models in SAC for Datasphere. Datasphere models can then be accessed directly in Story 2.0 without the redundant and thus somewhat cumbersome creation of models in the SAC. This is already available for analytical Models.
Such features give a preview of what the BTP ecosystem will look like in the future. Tightly connected tools in all facets of BI. But what became very clear again through this TechEd is that in all areas at SAP it is: Off to the cloud!
Do you have questions about this or other topics? Are you trying to build up the necessary know-how in your department or do you need support with a specific question? We are happy to help you. Request a non-binding consulting offer today.