As the year 2021 comes to an end, the Christmas spirit, fairy lights and the Q4 update of the SAP Analytics Cloud (SAC) are coming up. In this blogpost, we will introduce you to the latter. So go get your mulled wine and favorite christmas snacks, turn on your fairy lights and spot onto the new features within the SAC.
In general
The Q4 2021 update of the SAC offers less major features in comparison to the Q3 update. Instead, there are a few improvements to the features introduced within the previous updates.
BW Integration
In tables, BEx Query Exceptions can now finally be activated and deactivated. Single Exceptions can be en- or disabled via the context menu of a table. This simplifies scenarios in which there needs to be different color coding for different recipients, but the data (in this case BEx Query) is the same.
SAP Analytics Cloud Story / Analytics Designer
Within Stories, you now get tips for optimization while creating or editing a Story. These tips warn you about using too many widgets or pages. In our test with a story, where we built KPI-tiles containing a key figure and a miniature time series chart, the tip that we should reduce the amount of widgets to improve performance, felt almost cynical, as SAP still does not offer a widget for a KPI-Tile. Thus a Story-Designer has no other choice than to group multiple charts within an outlined rectangular shape, in order to mimic the look and feel of a KPI-Tile.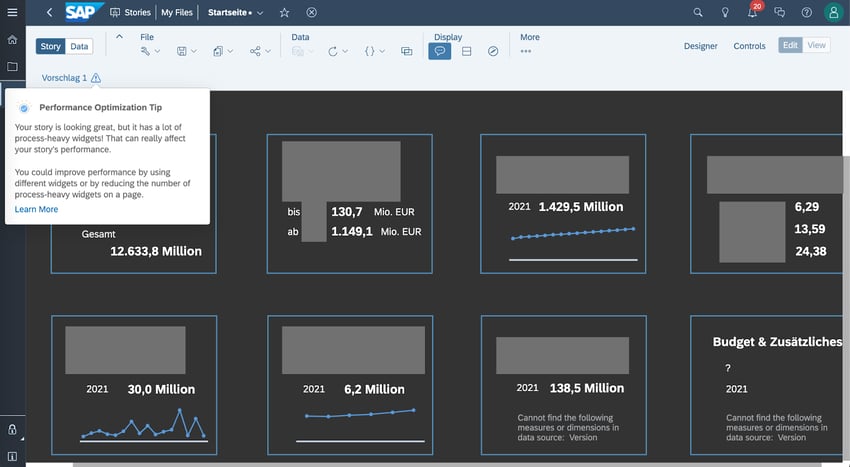 The "Optimized View Mode" for Stories received a few new features and now it's clear that SAP is concentrating on this mode for further development and new features. Our prediction is that the non optimized view mode will soon be declared as the "Legacy Mode" by SAP.
The noteworthy new features of the "Optimized View Mode" are:
the possibility to rename model dimension or -measures within a story
zero-suppression in charts & tables
fix and dynamic time range filters
Business Warehouse (BW) currency conversion
In the Analytics Designer, it's now possible to access additional metadata of a DataSource in the scripting via the new .getInfo() API. With that you can retrieve for example the technical Name and description of BW-DataSource like a BEx-Query and display this information to the user or use it in further scripting.
---
Dashboarding with SAP Analytics Cloud -
Download the whitepaper here!
---
A change for the optimization of performance is also given to the Analytics Designer. You now have access to the new option "Refresh Active Widgets Only" within the Data Refresh settings of a widget. This sounds like a small change, but has potentially huge influence on the performance of an Analytic Application, in which widgets are dynamically shown and hidden, but only a small number of widgets are visible at any given time. Because the new option leads to only the visible widgets being refreshed, when for example a filter is changed.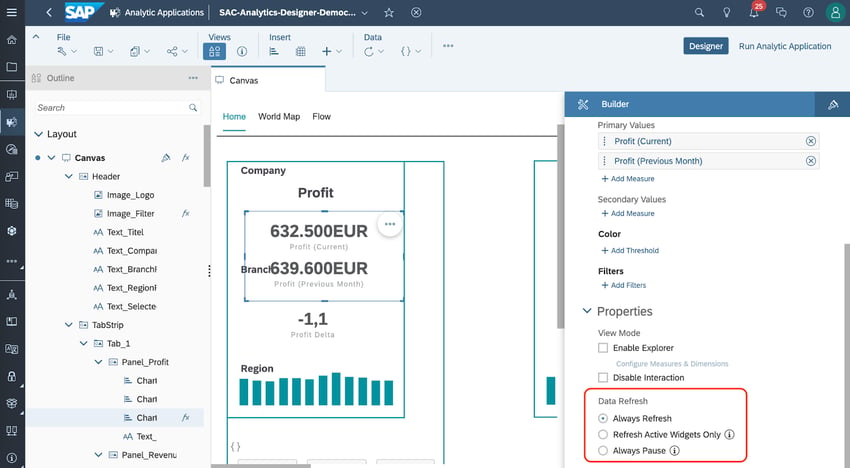 Planning
The Q4 2021 SAC Update has a big focus on Planning again. New for Planning this time around is the setting "Optimize Recommended Planning Area". By activating the option within the Planning Model via Model preferences => Data and Performance SAP promises faster Planning for new versions and also for existing versions. In addition to faster performance, there is new visual support for the user. Editable cells and impacted cells are color coded, so that locked cells via sources or missing Data Access Rights are immediately distinguishable.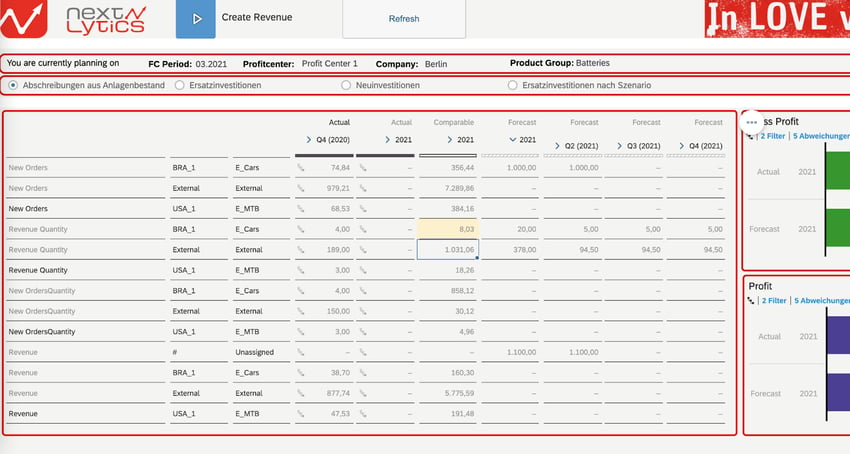 Also new is the possibility to create monthly recurring calendar events. You can now automatically start Data Actions for example every month on the 10. day or every 3rd month on every 10. day. This simplifies the process for static tasks, like for a month-, quarter or year-end-closing. What we are missing here is the option to deviate from calendar days and switch to work days, so to allow selections like every 8. day every month, because a calendar day is almost useless for certain processes and business areas.
Another quality-of-life-improvement regarding currency in the new Model was also implemented by SAP:
You can now define a currency variable, to set a target currency as default. By changing the variable, the currency of all measures connected to the variable is also changed to the new target currency - this saves time and frustration.
Verdict
With the Q4/2021 Update SAP does some product maintenance. There are no major features - instead there are many small improvements in many places.
Many of those improvements will probably not be noticed by users. The exception to this might be the potentially huge performance improvements in Analytic Applications caused by the new option for data refreshing of hidden widgets.
But the SAC still lacks obvious features, starting with an Undo/Redo-Button for editing Stories or Analytic Applications. These are still missing in this update, which is unfortunate since the competition (like Tableau or Power BI) had those from the start.
Introducing stability to a system is nothing bad though and that's how we can cope with missing major features and are interested, what the year 2022 might bring for the SAC. Specifically we are excited for the planned Q2/2022 Update. According to the roadmap of SAP, there will be, among other things, a newly improved Story-Designer - including an Undo/Redo-Feature.
Do you have questions about this or other topics? Are you trying to build up the necessary know-how in your department or do you need support with a specific question? We are happy to help you. Request a non-binding consulting offer today.