After the merry holidays, the new year is starting to take off. Many colleagues are very busy with the year-end-closing, still we want to take a bit of time off from the urgent tasks to return to our wishes not yet fulfilled. We want to list our wishes to the SAP Analytics Cloud (SAC) for the year 2022, that have yet to be under a christmas tree.
Get yourself a hot (or cold, no one's being judged here) cup of your favorite winter drink and let's go over the NextLytics-Wishlist to the SAC for 2022.
Connectivity
If it were up to SAP, every Data Warehouse would be run with SAP Business Warehouse (BW). Reality for our customers looks quite a bit more colorful. Many customers operate, aside from SAP BW, many other SQL-Databases and systems by other suppliers. In order to manifest the platform-approach and the single-point-of-truth-spirit of the SAC, we wish for a live connection to SQL servers. With that, there would be no redundant data storage, like we have with an import connection and still the various data sources of a business can be unified under the roof of the SAC - in our opinion a great potential for the future of the SAC. At this time workarounds like SAP Business Objects (BO) Universes or SAP HANA Smart Data Integration (SDI) have to be utilized for these scenarios.
Story
Already mentioned in many blog articles, we desperately long for an Undo-/Redo-Feature for editing stories for a very long time. Daily work would be nicer with less struggle many times over and our Dashboard developers could finally stop scratching their heads.
During the last year, SAP rolled out the Optimized View Mode for Stories. We like this mode a lot, because it brings more performance and new possibilities to the table (pun intended). Unfortunately some previous features have yet to be implemented for the new mode. For 2022 we wish for the SAP to improve this, so we can recommend the Optimized View Mode unconditionally.
Other than these wishes, the SAC Story tool has really grown up and provides business users with a strong tool kit to create simple Dashboards and Reports.
---
Dashboarding with SAP Analytics Cloud -
Download the whitepaper here!
---
Analytics Designer
As I developed Dashboards with the predecessor of the Analytics Designer, namely SAP Lumira Designer, for many years now, I'm excited all the time about what the next new patch might bring for the Analytics Designer feature wise. In some aspects, the Analytics Designer has to catch up to its predecessor, especially in tools for experienced developers. We wish for full, native CSS support without any restrictions in selectors by SAP.
Furthermore we would like to see the Composite-Feature from the Lumira Designer for the Analytics Designer. This would allow a group of elements (Panels, Charts, Buttons, …) to be defined as a so-called Composite, saved and reused in any App/Dashboard. A new button within a unified Header across Dashboards would not have to be added in every single Dashboard, but only in the Composite. This is really helpful, if you want to unify the experience of your Dashboards and slim their development.



Composites would enable you to define e.g. headers like this one as a single reusable component including the navigation, filters and export-functions.
In addition to that more APIs within the Script are always welcomed. The more APIs we get as developers, the more dynamic we can design the Dashboards. An example of this are the APIs for Custom Widgets (self programmed SDK-Components in the SAC) - there we would love to get, aside from DataBinding, also more APIs, to develop even more powerful extensions.
All of these are wishes for features that would offer experienced developers more possibilities. At the same time, they wouldn't exclude less experienced developers, because you don't have to utilize these features in order to implement a solid Dashboard.

Moreover we again wish urgently for an Undo-/Redo-Feature for editing Analytic Applications. Also, it would be nice if the Optimized View Mode from SAC Story would be ported to the Analytics Designer, so that we can profit from performance improvements and new features here as well.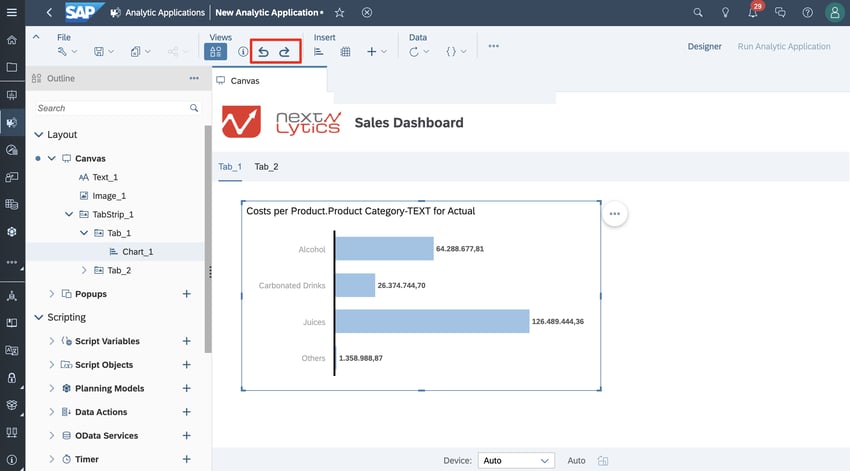 The Undo-/Redo-Feature in the Analytics Designer: Unfortunately only a mockup from our side and nowhere to be seen in the SAC
Planning
Within the last year, SAP apparently invested a lot of time and power in the planning area. The added features speak for themselves, with the New Model SAP turned a lot inside out.
Our wish is that more automation of processes would be possible. In Particular, we wish for a stronger integration between Planning and Predictive, making it possible for a new plan version to automatically trigger a Predictive model, ideally via the established Multi-Actions within the Calendar. This would slim down the planning process even further and the business would be less dependent on the IT-department.
Staying with Multi-Actions, we have a small, but effective wish. Sometimes it happens to us that we accidentally start the wrong Data Action (I know - outrageous!). At this time there is no way to cancel these. A small new icon to stop the Data Actions would be really nice here.
Summary
Looking at the length of this wishlist, someone might get the impression that the SAC has yet to grow up and is a product of low quality. That is absolutely not true though, the SAC has stabilized and increased in size by a lot over the last few years. We unconditionally recommend the SAC to our customers, who all so often run SAP BW. With this wishlist, we just wanted to write down some features we miss on a daily basis with our work in SAC.
Maybe we get lucky and a few of these wishes are being fulfilled in 2022 by SAP. Our fingers are crossed - are yours too?
Do you have any questions on this or other topics? Are you trying to build up the necessary know-how in your department or do you need support with a specific question? We'll help you. Request a non-binding consultation offer today.