Whether SAP Analytics Cloud Business Intelligence, Planning or Boardroom. In this article I will deal with the different modules and explain the differences.

SAC is the abbreviation for SAP Analytics Cloud and is a cloud-based application that deals with reporting, analysis, planning and simulation scenarios. It is part of the SAP HANA technology. All modules are available in the cloud, so no software is required, because they are operated via the Internet browser. Data collection is not carried out exclusively by SAP systems, as SAP has opened up access to it and offers a large number of data connections. This allows different data to be linked together. A special feature are the local files, which can be combined or blended with the various data connections.
Classification of the modules
The software products can be divided into three main areas: Business Intelligence (BI), Planning and Boardroom. Business Intelligence can be divided into Story and Application Designer. In this article, the term module is used to distinguish a software product from SAC.
The Distinction between SAC Story and SAC Application Designer
Story is first and foremost a self-service dashboard and is targeted to the end user from the department. Story enables the department (without much IT knowledge) to develop its own dashboards in addition to the pure view. Predefined (standard) templates are available to the creator. By simple Drag & Drop own Dashboards can be developed very fast and in shortest time. At this point, however, it should be mentioned that only standard scenarios can be covered with these dashboards. If a special logic is required, the Application Designer has to be used.

The Application Designer is targeted to users who have requirements for their dashboard other than those offered by SAC Story Standard. Complex dashboards can be implemented using scripting (BI Action Language = BIAL). These dashboards in turn must be created by the IT department. In addition, the SDK enables the development of own widgets that can be used in the Application Designer.

SAC Story and Application Designer use so-called models as DataSources, which can be created within SAC.
---
The ultimate Comparison between SAC and Lumira Designer
---
SAC Planning
With this module, the end user can create planning scenarios and analyses in self-service (as with SAC Story). With the pre-installed planning functions, such as the distribution of resources or the forecast, you can create your own plans in the shortest possible time. In addition, collaborative options are available to the user so that comments can be left behind or discussions can be held. Planning and analysis are thus combined in this module. Artificial intelligence can also be used to retrieve forecasts and identify potential value drivers. The integrated value driver trees can be used to visualize more complex relationships and keep an eye on the most important KPIs.
If complex user interfaces with special logic are required, the Application Designer can also be used to create customized dashboards in this way.
Boardroom
This last module combines story and planning dashboards. In Boardroom, management dashboards can be created from operational dashboards. The created dashboards (or individual pages) are merged into a single dashboard. A structure is then created in Boardroom (similar to a tree structure) in which the various pages are integrated.
These boardroom dashboards can then be used, for example, to present the most important key figures in a monthly management meeting. As in the other modules, it is possible to interact with the components and set filters.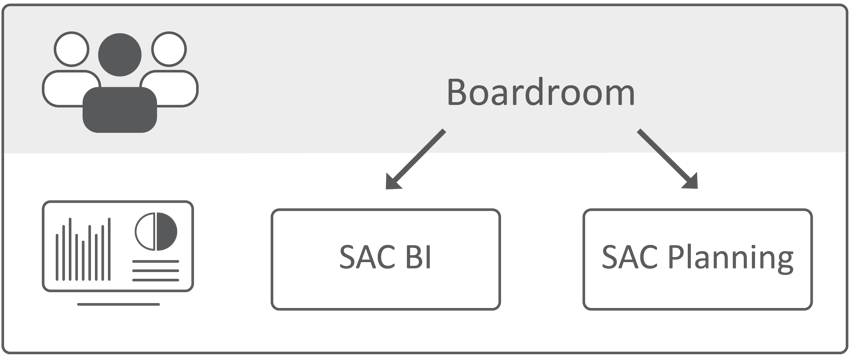 Conclusion
SAP uses SAC to simplify dashboarding. SAC Story and SAC Planning are suitable for users in the department. SAC Application Designer can be used if specific requirements and logics need to be implemented. Here, however, the target group is oriented towards the IT department, as dashboards can be created there using scripting. If the most important KPIs are to be merged, Boardroom is suitable for combining dashboard pages from planning or stories.