In our previous publications we have talked at length about Sap Data Warehouse Cloud as the latest SAP Data Warehousing solution on the market, which provides a comprehensive cloud application for organizations to manage and analyze their data in a scalable and modern environment. We have received frequent requests by our customers regarding the first steps with their own DWC tenant and strategy. While the answers mostly depend on the specific customer BI landscape, we have compiled some common denominators.This article will outline some key considerations and provide guidance for starting your own SAP DWC journey.
Still unsure whether DWC fits your business?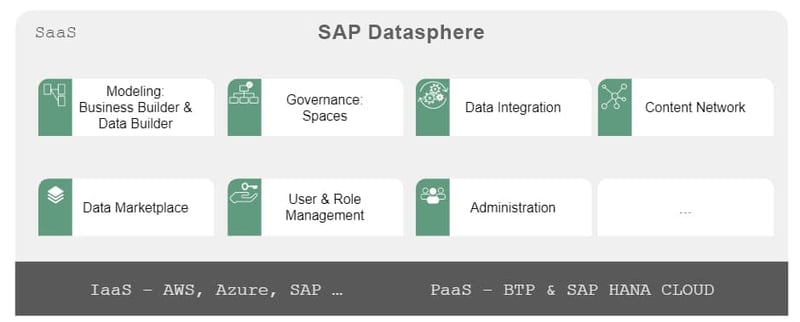 Rich Features on managed Infrastructure, Platform and Service
Some clients are still unsure whether DWC is a solution that fits your business. There are legitimate concerns to be had, but also a few key strategic problems that DWC addresses.
With BW transitioning to continuous-support mode, we cannot expect any major innovation for that solution. Nevertheless the requirements for information technologies are subject to continuous change. The resulting future challenges of customers in the Data & Insights area will probably only be addressed with new DWC features. For example, we already see the Data Marketplace as a unique DWC tool for networking data models from different companies.
Furthermore, as a cloud-based Software as a Service (SaaS) solution, the DWC offers significant cost savings potential by eliminating most infrastructure & platform maintenance and update activities. Likewise, there are efficiency gains for the data warehousing team due to the intuitive and modern development and modeling tools. These result in a high ROI business case for the implementation of DWC.
Ready for DWC? Checklist with key considerations:
If you've decided to integrate DWC into your BI landscape, it's important to, first and foremost, consider your self-service concept. Self-service in DWC is an agile approach that allows business users to easily access, explore, and model data on their own without the need for IT support. While it is an entirely optional approach to follow within DWC, it does have a big influence on your overall system architecture. There are a number of aspects that play into this including defining user groups, setting up appropriate Spaces and implementing a Security setup that ensures appropriate access.
---
Watch the recording of our webinar:
SAP Data Warehouse Cloud - Is it ready for you?
---
Defining possible user groups and establishing reusable roles for them will ensure that the appropriate access and authorizations are in place for each group. The pre delivered role setup is a good starting point. We also need to ensure that each department has easy access to the relevant data in its own space. This means defining clear naming conventions, as well as establishing a hierarchy of data models or layers that can be used to organize the data, i.e. an architectural data model. SAP recommends a streamlined approach with a four layer architecture involving an Inbound Layer, Harmonization Layer, Propagation Layer and Reporting Layer.
Speaking about Spaces: The structure of the Spaces within the tenant should also be carefully considered. The Spaces concept allows organizations to divide their tenant into separate areas for different user groups, such as IT, business users, key users and authorization admins. It's important to consider how these groups will interact and how authorizations will be organized within the different Spaces. A common approach is to establish a topic space for each department (Sales, FI, HR, etc.) as well as one core IT space and optionally a separate authorization space to further secure sensitive information.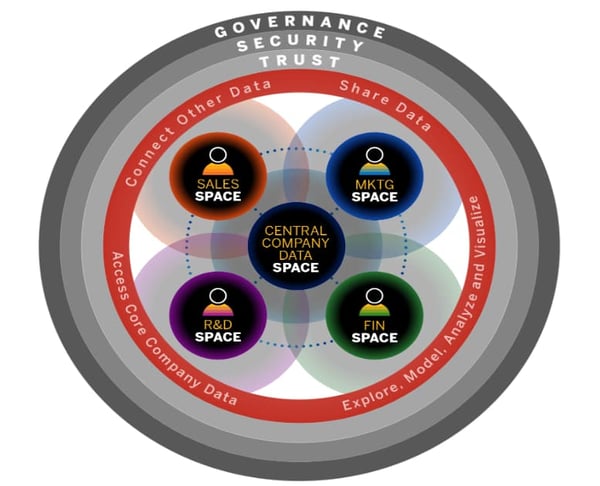 Enable agile yet governed collaboration with Spaces
Additionally, it's important to consider how and when virtual and persistent data access will be used. Within DWC we are able to use View Persistency, Real Time Replication, and Data Flows to persist data models, as well as Remote Tables for virtual access. Some source system connection types require additional setup with Cloud Connectors or Data Provisioning Agents (DPA) to support all functionalities. View Persistency allows users to save the current data in a view, providing performant access. Real Time Replication, on the other hand, allows data to be replicated in real time using the Change Data Capture (CDC) framework, enabling up-to-date analysis and decision making. Data Flows, meanwhile, enable users to create and manage data pipelines, making it easy to move and transform data to and within the tenant.
Don't forget to consider migration options and you are good to go for your first PoC!
Finally, examine how your organization will migrate existing Data Warehousing investments, like a SAP BW on HANA or BW/4HANA system. Will you pursue a full migration with BW Bridge? A Sidecar approach with your SAP BW system? Or even a Greenfield approach? But even further than that, the specifics like for a BW Sidecar approach, questions such as which layers and data models should be integrated as a data source into DWC, have to be carefully studied.
After establishing these core concepts, you are ready to implement use-cases within the framework of a proof-of-concept (POC). This will allow you to test out the capabilities of SAP DWC and ensure that it can effectively meet the needs of your organization.
When choosing a use-case keep the following in mind:
establish design guidelines based on your decisions on the key concepts above

test core architectural designs like source connections and object imports early on

leverage unique functionalities of DWC like the self-service aspect

consider the risks and choose an appropriately critical use-case
First steps with DWC - Our summary
In summary, setting up a SAP DWC tenant requires careful consideration and planning. By taking into account factors such as user groups, access to data, Spaces, use cases and migration options, organizations can ensure that their DWC journey starts smoothly.
Do you have questions about this or other topics? Are you trying to build up the necessary know-how in your department or do you need support with a specific question? We are happy to help you. Request a non-binding consulting offer today.