With the focus of SAPs Data Warehouse (DWH) strategy shifting from BW/4HANA to Datasphere, our customers face the question of likewise transitioning their own BW system to this new cloud solution. For our readers facing uncertainty about topics such as the maturity of Datasphere, as well as potential migration paths from BW, we would like to offer clarity.
Datasphere [formerly known as SAP Data Warehouse Cloud (DWC)] is a new data warehousing solution by SAP. This is a Software as a Service (SaaS) solution based on the Business Technology Platform (BTP) foundation - provided on the cloud. This architecture offers a number of advantages over a traditional on-premise BW solution.

Datasphere shows to be a complete overhaul of previous SAP DWH solutions both in terms of backend and frontend. For some this is a blessing, for others a curse. As a user and developer you will not recognize any of the functionalities as an extension of previous BW functionalities, as you might have with the various transitions from AnyDB BW over BW on HANA to BW/4HANA. You will rather find a system that is built anew from the ground up. In terms of code based adaptability a new focus on SQL (and to a lesser extent Python) is set. You will not find ABAP support on Datasphere apart from the BW Bridge described later. What you will find however is clean, complete and concise product and feature documentation.
Integration with source and consumption systems is industry standard. You will find a tight integration with SAP solutions on both ends, with SAP Analytics Cloud (SAC) even sharing the same design language as Datasphere. Federation and replication options are available for a variety of SAP and non SAP sources with ready made connectors and any application not directly supported can be accessed via common connectors like ODBC.
The infrastructure is provided by SAP, meaning that the effort and complexity of implementing, operating, maintaining and upgrading the system is minimized or even completely eliminated.
Through our own experience with Datasphere tenants we can attest to a high uptime and clear and timely communications regarding downtimes, issue identification, resolvement, root cause analysis and future preventive measures.
All these are considerations that need to be made in regards to (re-)training effort and requirements for manpower and skill sets in a potential migration project.
---
Watch the recording of our webinar:
SAP Datasphere - Is it ready for you?


---
A brief look at how future proof the SAP DWH solutions show to be, reveals both external as well as internal considerations.
Externally, SAPs Data Warehousing strategy has been clearly communicated: Datasphere is the premier SAP DWH product going forward. BW support is still guaranteed until at least 2040, but all signs point towards major innovations being limited to Datasphere.
Internally we realize that, as a cloud solution, Datasphere offers great scalability, both in terms of system capacity as well as organizational changes. With ever increasing data volumes the system resources can be scaled up or down rapidly at the click of a button and the spaces concept in Datasphere lends itself to accommodate any organizational adjustments.
Combined with the relative ease of implementation and operation of Datasphere, any new DWH implementations in the SAP sphere are sure to find Datasphere the superior choice. For existing BW solutions the main point of contention lies in the availability of modeling options as well as the ability to migrate existing investments.
Will such a "fresh" solution provide all necessary modeling capabilities to reflect our current and future reporting requirements? Unfortunately this question cannot be fully answered without deeply analyzing your specific scenario, as reporting requirements differ highly for various system landscapes, but there are a number of considerations to be had here:
Roadmap: SAP offers a product roadmap for Datasphere showing all planned features for 2022 and beyond. This can be used as a guideline on which features can be expected.
Coding solutions: Considering that Datasphere operates on a HANA database in the backend as well as the coding support within the application itself, any reporting and modeling requirements that can be realized via SQL modeling can be considered within scope.
Pilot Project: The most comprehensive approach to find clarity on whether your specific requirements would be supported in Datasphere can be realized by developing concrete business scenarios on an actual Datasphere tenant.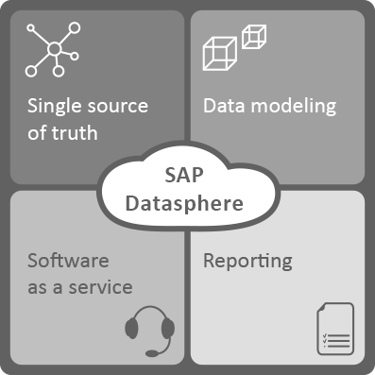 What is however very clear is the support or lack thereof
in migrating a current BW system into Datasphere. This is
realized via the so-called "BW Bridge". The BW
Bridge approach is realized with the direct involvement
of SAP engineers. After establishing contact
and discussing details, a provisioning process is
triggered by SAP, creating a cloud hosting environment
for your BW system and creating a special space in
your Datasphere tenant to interface this BW system. In that
sense your BW system is treated as a source system
for Datasphere while hosted in the cloud by SAP to avoid
further maintenance and upkeep with the on-prem
solution. The BW Bridge is however limited in
some functionalities. It does not offer any Query or
OLAP support (Exception Aggregation,
Analysis Authorization…), meaning these investments have to be redeveloped natively in Datasphere. It also only supports ODP sources and does not support planning functionalities, as SAC Planning is positioned alongside Datasphere for any such requirements.
Ultimately SAP Datasphere is rapidly gaining relevance and establishing itself as the premier SAP DWH solution. With the introduction of the BW Bridge in late 2021 the doors are open for existing BW customers to migrate their investments into this innovative, future proof cloud solution, albeit with some restrictions. To minimize risks with little investment we recommend to start your journey with an initial Datasphere tenant alongside your existing solution, providing opportunities to capture and test your day-to-day scenarios on a live system. We would love to offer you our guidance and expertise through this process.