Datasphere [formerly known as SAP Data Warehouse Cloud (DWC)] is the SAP Data Warehouse of the future, but is it ready for your company now? We examined this central question in our webinar on November 17, 2022.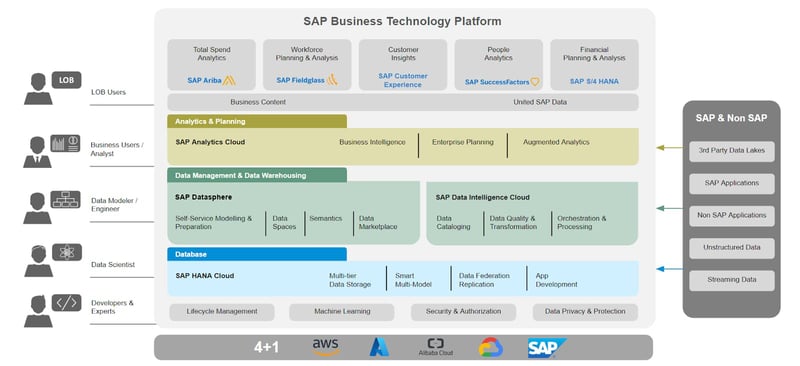 First, we took a look at the cloud-based SAP Analytics product landscape, which from SAP's point of view corresponds to an ideal image of their customers' system landscape. Similar to how the SAP Analytics Cloud (SAC) was already positioned as the sole strategic front-end & planning tool in previous years, the Datasphere is now also moving into the focus as a cloud-based data warehouse, thus putting the previous "on-prem" Business Warehouse (BW) in the background. This architecture continues to be supported by the cloud versions of SAP HANA and SAP Data Intelligence (DI).
We also looked at the architecture and features of the Datasphere. The former clearly follows the paradigm of 'Infrastructure as a Service' (IaaS) with hyperscalers such as AWS, Azure and SAP itself, 'Platform as a Service' (PaaS) with the Business Technology Platform (BTP) and 'Software as a Service' with the Datasphere itself. This promises customers significant increases in efficiency and cost reductions. The Datasphere offers classic warehousing features with modern design principles such as inclusive data modelling for business users, data modellers and programmers at the same time as well as the Spaces concept, which enables flexible governance for different user groups.
---
Watch the recording of our webinar:
SAP Datasphere - Is it ready for you?
---
These concepts of governance and inclusive data modelling offer the technical prerequisites for pursuing a data mesh approach with a BI system landscape. This breaks down old bottlenecks in the development process and creates a more efficient path from business requirements to realised data products.
Our "Reality Check" provided an insight into the practical limitations and challenges of a concrete Datasphere project. Here we reported on the delta loading possibilities and limitations in Datasphere in connection with an S/4HANA source system and intercontinental loading processes according to the "follow-the-sun" principle.
The various implementation paths were also discussed, specifically how you can integrate Datasphere into your existing BI architecture. The focus was on BW-based architectures in the initial situation and the possibilities of "full migration" or a "sidecar" approach as well as the tool-based migration path with the BW Bridge.
Finally, we showed a live demo of our internal Datasphere system with integrated S/4HANA Sales Business Contents as well as a Q&A session where we answered your individual questions.
If you are interested and would like to learn more about Datasphere, you can watch the recording of the webinar here or contact us for an exchange at any time.