Creation of planning applications is the supreme discipline in SAP BW. Usually, complex architectures are involved that require a dedicated project. Which is associated with corresponding costs - typically planning projects are more expensive than their counterparts in reporting.
However, this does not always have to be the case. Thanks to NextTables, you can create compact planning applications quickly and easily. The short timeline is reflected in low costs. In addition, the effort for subsequent maintenance is reduced.
NextTables enables simple input of planning values directly into the InfoProvider. Therefore, there is no need to build composite providers, aggregation levels and planning queries. Thanks to the direct integration, the planned values are immediately available for reporting. This ensures the comparison of planned and actual values.
Possible application scenarios
Let's consider the following scenario, which is often encountered in practice. Small subsidiaries that do not use SAP must report their quarterly figures to the parent company. This is done by entering it in a planning mask. This is a simple manual entry of values. No complex calculations are necessary. Where a larger project used to be necessary to create the input masks and the underlying architecture, NextTables can quickly remedy the situation. The subsidiaries can enter the key figures via NextTables and the parent company immediately gets an overview.
Another example would be human resource planning. This is particularly important for small companies. It is important to ensure that the right employees with the right skills have the right job. The goal is to make the best use of employee resources. However, these companies in particular face the challenge of finding a cost-effective solution, as time and financial aspects must be considered in equal measure.

NextTables allows you to implement personnel planning quickly and with a minimum of effort. You can maintain the status of employees for the respective organizational unit and specify whether the employee is present, sick or on a training course. The modern and intuitive interface makes it possible to use NextTables even on mobile devices. This means that users from the specialist department can start planning without any major training effort.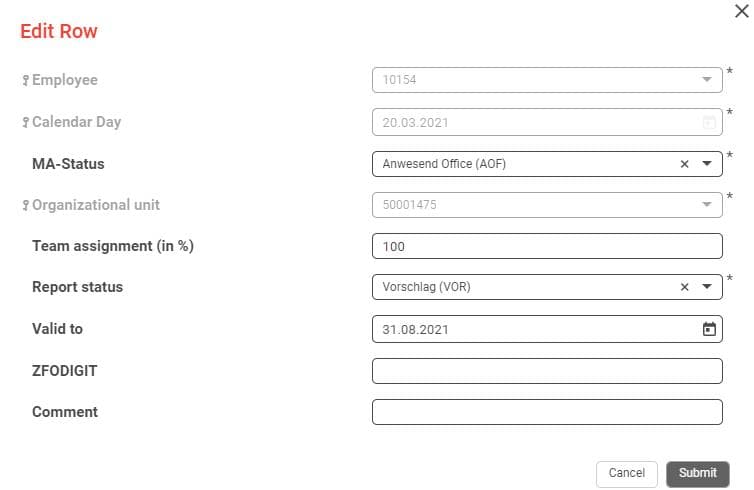 ---
An overview of tools for master-data
maintenance & data import into SAP
---
The integrated upload function additionally accelerates planning. Using it, the values planned in Excel can be effortlessly uploaded to SAP BW. You have the option of uploading the data from Excel via clipboard or as a file. Particularly noteworthy here are the intuitive interface and the flexibility to adjust settings such as separators and decimal notation during the upload.
NextTables has a sophisticated validation mechanism that detects and immediately corrects invalid records during upload. In the case of common errors, no manual correction is even required, since NextTables is capable of automatic import corrections. For example, currency symbols are removed from amount fields without user intervention. If the existing validation mechanisms are not sufficient, you can create your own validations and data enrichments using predefined default scenarios as well as BAdIs. You can validate the input fields in relation to each other or read additional information. This speeds up the input as well as the uploads process and also improves the data quality enormously.
In addition, NextTables offers several collaboration features that ensure that nothing goes wrong during hectic planning phases. On the one hand, there is an overview of all active users per table including a link for easy communication via teams or mail. On the other hand, there is a locking mechanism on record level. This means that all records that are currently being edited by one user are locked for all other users in the table. Thus ensuring that the various users of a table do not accidentally get in each other's way when planning and accidentally overwrite the values that are currently being planned.
By using NextTables you can realize "economies of scale". Once deployed, you can use the tool across different projects. You can use it to create test data, maintain planning-relevant parameters, create new master data or maintain characteristic relationships based on an ADSO.
Implementation of planning applications - Our Summary
NextTables greatly simplifies the creation of planning applications in SAP BW. It is a versatile tool that can be used to accomplish various tasks. Overall, NextTables offers an efficient and cost-effective solution for creating planning applications in SAP BW.
Would you like to learn more about NextTables? Request your personal test version now, free of charge and without obligation. If you have any questions, please do not hesitate to contact us.