"The only constant in the universe is change", is a statement by Heraclitus. Economic and technological developments present companies with ever-increasing challenges. This also increases the pressure and demands on the business intelligence (BI) team of your company. At the same time, additional projects and further development and maintenance of existing applications represent an increasing burden for BI responsibles. The consequences are long waiting times and delayed projects. Moreover, if IT doesn't deliver fast enough, business frustration grows. Agile projects require flexibility at all levels.
This is where we come in: with our NextTables solution, we enable you to integrate the business departments and reduce your dependency on the IT. The flexibility gained ensures the agility that is necessary in business operations and at the same time relieves your BI department.
Data maintenance made easy
In short: NextTables enables the user to display and change data in tables. Whether master data maintenance, data corrections or the upload of non-SAP data, the most common scenarios are implemented and ready to use within a few minutes. In principle, all SAP tables can be integrated into NextTables, which guarantees a multitude of possibilities.
BI Self-service for the department
NextTables has a straightforward and intuitive user interface that empowers business departments to act more independently and cover the most common requirements via self-service. But NextTables can do much more than look pretty. The integrated tables can be provided with further logic through BAdIs (Business Add-Ins). This ranges from simple data updates, validation and completion of data "on-the-fly" to transposed tables and buttons that trigger, for example, process chains.
Your users can upload data from the clipboard or Excel, maintain master data and create test data themselves. In this way, you achieve greater involvement of the business departments and increase the commitment of your users. With a few simple steps in the backend, even small planning scenarios can be implemented quickly. NextTables also ensures that governance aspects are taken into account. The integrated authorisation concept allows you to assign selected functions to specific users and define power users.

Implement projects faster and more cost-effectively
With the help of NextTables, your BI department is no longer tied down by repetitive, unpleasant tasks and is therefore available for new projects. You can implement more projects in the same amount of time and your employees are more motivated.
In addition, you can complete projects more agile and cheaper through rapid prototyping in NextTables. A possible scenario would be the provision of dashboard data before the actual data modeling in the backend. This results in several advantages. The frontend and backend team can work on the project in parallel. The department can use the dashboard with original data to assess much earlier whether all reporting scenarios can be implemented. It often only becomes clear in the reporting test phase that adjustments or changes to the data model are necessary. These can be implemented cost-effectively in the early project phases, while an adjustment at the end of the project phases endangers the go-live. With these and other process optimizations, you can guarantee that the Service Line Agreements (SLA) will be achieved.
---
An overview of tolls for master-data maintenance and data import into SAP- Download your whitepaper!

---
Improved data quality
NextTables brings further advantages. By processing the data jointly, you achieve increased transparency in the system. All editable data is in one place. Through the integrated validation of input data, which can also be specially adapted to your needs, you reduce the susceptibility to errors and improve the data quality for reporting. In addition, the field-by-field configuration of visibility for users enables easy data compliance.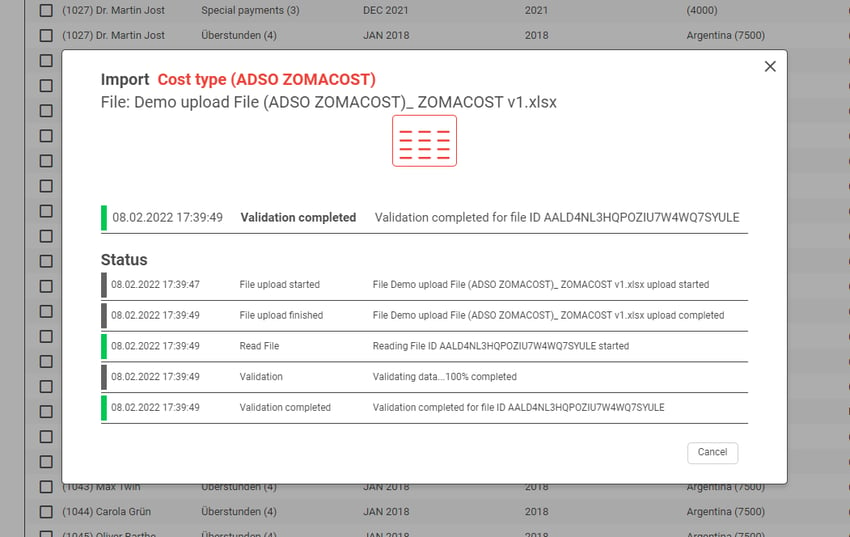 Hassle-free integration
NextTables is easy and quick to implement on your system. It consistently follows the platform idea. For example, in addition to the InfoProvider types, the authorisations are also taken from SAP. Thanks to simple customizing options, the implementation in your own corporate design is done in no time.
Since the most common use cases can be implemented directly out of the box, the make-or-buy decision is clearly in favor of NextTables. Because you can implement everything - from master data maintenance to simpler planning applications - with one tool, you benefit from economies of scale.
Thanks to the continuous development and adaptation of NextTables, you make the right strategic decision in the long term and benefit from future updates. In addition to our qualified support, we also offer you professional and technical assistance in the implementation of your NextTables applications.
SAP BI department - Our Conclusion
NextTables as an SAP Add On can help you increase the relevance of your SAP system, achieve more buy-in from the business, complete your projects faster and more efficiently, furthermore it delights your users with an intuitive interface.
Would you like to learn more about the use and possibilities of NextTables (Nexttables version 9) or discuss exciting use cases during a live demo? Do not hesitate to contact us!