Since planning regards the future, it is often necessary in planning projects to work with entities that do not yet exist, such as products. For example, specific products do not yet exist in the official master data and must be created. This is often a lengthy process that is usually performed by the IT department.
Convenient master data maintenance
If the master data has to be maintained across multiple systems, it takes even longer. For instance, master data would first need to be created in S4/HANA and then loaded into SAP BW, where planning is then done using SAP BPC. Until the whole process is run through, planning is blocked. This is unacceptable in times of ever tighter planning cycles.
Fortunately, master data maintenance is a particular strength of NextTables. NextTables is an add-on to SAP, which allows the maintenance of all tables, InfoProviders and InfoObjects with a user-friendly interface. This would allow, for example, a power user to create the required products, without hindering the planners. If necessary, the planned values can later be reposted to official master data.
NextTables allows both manual maintenance and uploading of new master data. Thanks to the modern, user-friendly web interface, it is child's play even for technically inexperienced users. Users can edit multiple InfoObjects via an intuitive user environment. Users only see InfoObjects that have been released for maintenance and can select the desired InfoObject.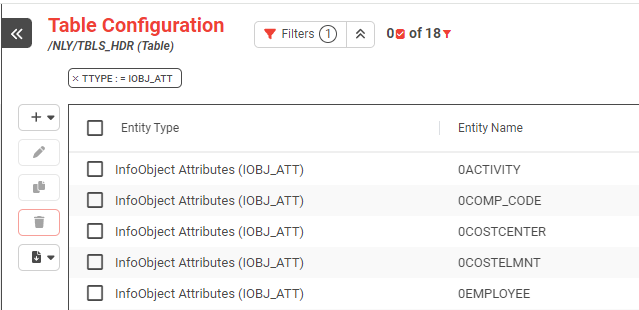 The user can then easily create a new entry in master data with associated attributes. In doing so, they can lock individual attributes of the dimension for maintenance or also automatically provide them with values without the user being able to overwrite them. However, in contrast to classic SAP BW, the user can directly enter the description for the new characteristic. After saving, the new characteristic values are directly available to the planners.

---
An overview of tools for master-data
maintenance & data import into SAP
---
Quick mass modification through Excel upload
In addition to the direct entry of master data, an intuitive import function is also available. This allows you to conveniently enter master data in Excel and then upload it to the system. You can import the master data either from a file (Excel and CSV) or from the clipboard.
Here, the user is supported with an Excel template in the appropriate format, which can be downloaded. Neither with the Excel nor the CSV upload do you have to worry about the format, because the column recognition is done automatically via the column header.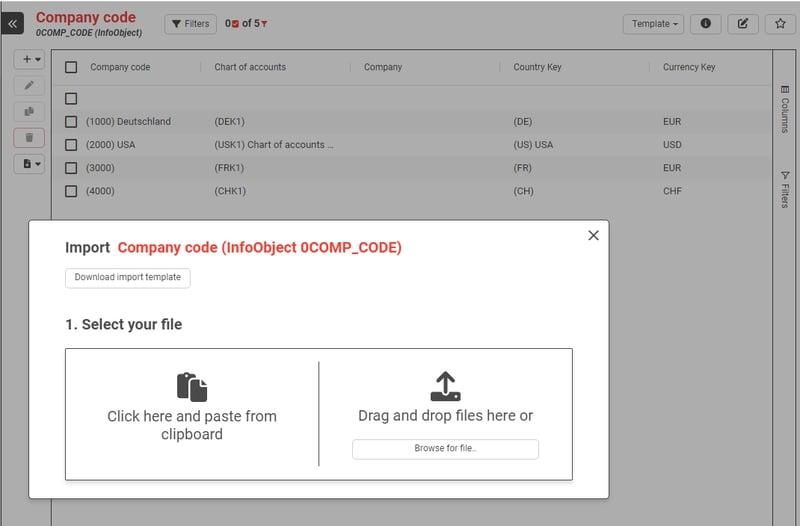 Special mention should be made of the sophisticated authorization check, which protects the master data from unauthorized access. This means that you can only allow selected InfoObjects to be maintained by the user department. The rest remain in the territory of IT governance.
The maintenance of individual InfoObjects can be fine-tuned even further, so it is possible to allow only some attributes of an InfoObject to be edited. If you want to exhaust the possibilities in NextTables, you can even have different departments maintain different attributes in the same InfoObject.
Master data maintenance with NextTables- Our Summary
So, if you are looking for a way for business users to
edit master data of several InfoObjects via one user environment
lock individual attributes of the InfoObject for maintenance or automatically supply them with values
have an upload option for master data
have special authorization requirements
want to maintain data other than master data (aDSOs or transparent tables)
then NextTables may be an alternative for you.
Would you like to learn more about NextTables? Here we present NextTables in detail and show you all possible applications in our feature gallery: Learn all about NextTables.