Are you also annoyed about insufficient and non-uniform planning and analysis options in your SAP system? Then now is the best time to test the current development from Walldorf, SAP Analytics Cloud. What exactly is behind SAP Analytics Cloud?
The new SAP platform can provide all components for an advanced analytics solution. SAP Analytics Cloud is based on SAP HANA and uses the SAP HANA cloud platform with its data storage, cloud connectors and the corresponding operational functions. Data can be provided as Live Data Connection or imported as local data.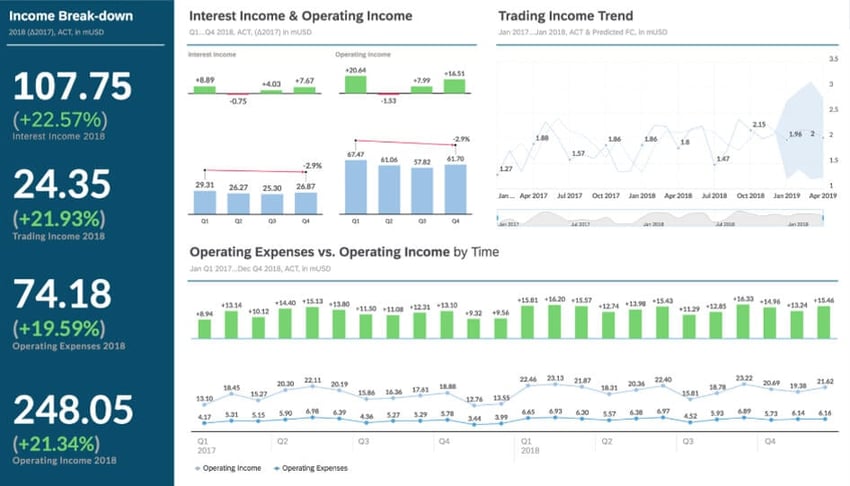 Compared to previous SAP solutions, SAP Analytics Cloud is particularly impressive in these three respects:
User-friendliness
SAP Analytics Cloud is outstanding, because it was developed for the specialist departments. Once set up by the IT department, power users can create their own plans and dashboards.
---
The ultimate Comparison between SAC and Lumira Designer
---
Data Diversity
Whether SAP HANA, SAP BW, ODATA, SQL or Excel - with SAP Analytics Cloud you have various options for data import or live connection to the SAP HANA Cloud. Best of all, you don't need different tools for processing different types of data. SAP Analytics Cloud provides a uniform platform.
Data Protection and Security
The protection and security of sensitive corporate data plays an important role. SAP Analytics Cloud meets all applicable data protection requirements and SAP also guarantees the highest standards in the area of data security. The cloud platform itself does not exchange real data, only metadata.
Further information on SAP Analytics Cloud can be found here.
SAP is currently offering interested companies the opportunity to test SAP Analytics Cloud without obligation. Would you also like to be future-proof when it comes to planning and analyzing company-wide data? Then test the latest SAP solution now and contact us. Thanks to our expertise and several completed projects, we are your contact for SAP Analytics Cloud.