During a project implementation, it is necessary to generate test data quickly and easily. This way, new developments can be tested instantly, to find out which effects the latest changes had. When working with Plan InfoCubes, you could use transaction RSINPUT to write some records into the cube. And with a DSO for direct writing you could quickly create test data via SQL.
Unfortunately, these methods do not work with the new InfoProvider type ADSO (Advanced DataStore Object). In this article, I'll show you how you can still create test data in an ADSO.
Since the shortcuts mentioned above do not work with ADSO, we need to go back to the basics and create test data the old way. Therefore, it is necessary to create a planning sequence of type 1 (manual input). There are several steps involved. First, an aggregation level must be created. The aggregation level defines the granularity of the data. Then a filter has to be created. Even if no data needs to be filtered, it is still necessary to create a filter. Otherwise the planning sequence cannot be saved.
You can then execute the planning sequence and append new lines (1). There you can enter and save the new values (2). The new data is then ready for testing.
---
Master data maintenance - Five tools in comparison
---

As you might notice, there are quite a few steps for a simple data entry. After all, we only need a few data records in the InfoProvider, but have to create a new aggregation level and filter. Too cumbersome.
NextTables provides a simple alternative for data entry. You can write data directly to the ADSO without having to go through the processes creating aggregation level and filter. In addition, test data can be conveniently generated in Excel and afterwards imported with a few clicks into the ADSO.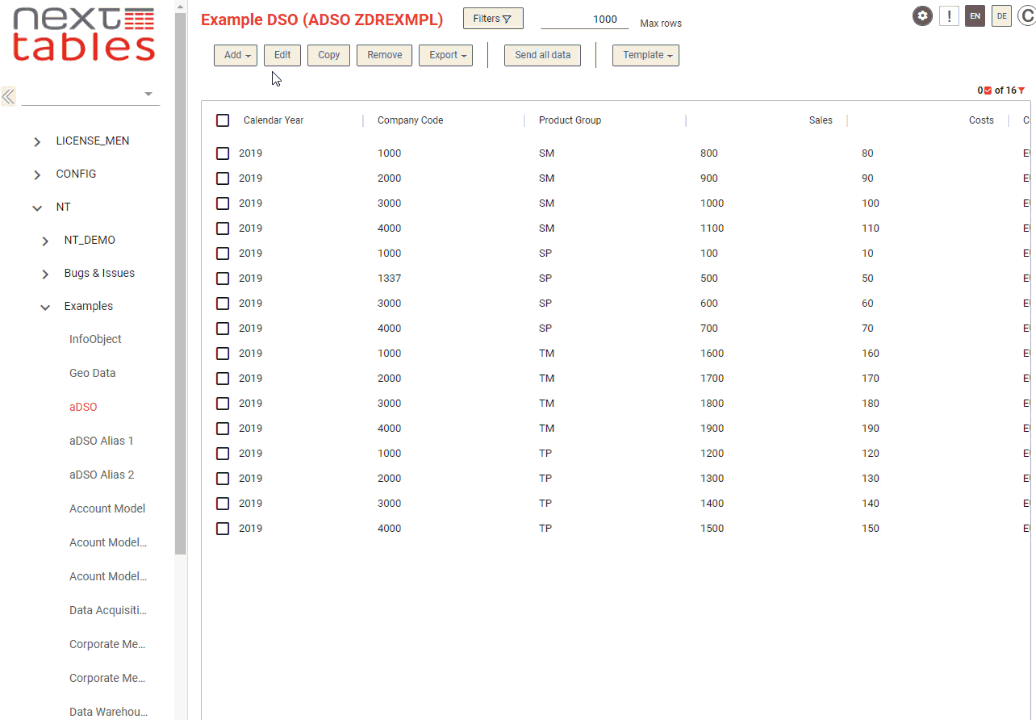 Thanks to intuitive web interface, even business user can create test data required for the UAT (User Acceptance Test) in order to play through all possible scenarios. So, if you want to reduce your project time (and cost) while improving quality, consider using NextTables.
Actually, fast and problem-free generation of test data is only a side effect. NextTables can do much more. It provides an entire suite for data upload and master data maintenance in SAP BW including validation. If you value a smooth upload or want to provide your business department with a simple and freely configurable master data maintenance solution, then NextTables can be an alternative for you.
Would you like to learn more about NextTables? Get your free trial version now! No strings attached. If you have any questions, we are always at your disposal.
Image: Pexels, CC0 License