In this tutorial you will learn how to configure tables in NextTables. First, I will give you a general introduction and then show you how to create new entries and include an aDSO or a table.
Configuration Overview
NextTables enables you to configure settings at different levels. You can define settings for the application, which groups all tables to be edited. Furthermore, you can configure menu items, menu item description, table properties and properties of table columns (individual fields).
The configurations are done via the CONFIG → WIZARD menu.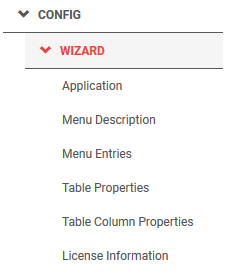 Application
The Application menu is used to create new applications in NextTables. An application builds the basis for all further implementations and groups tables to be edited.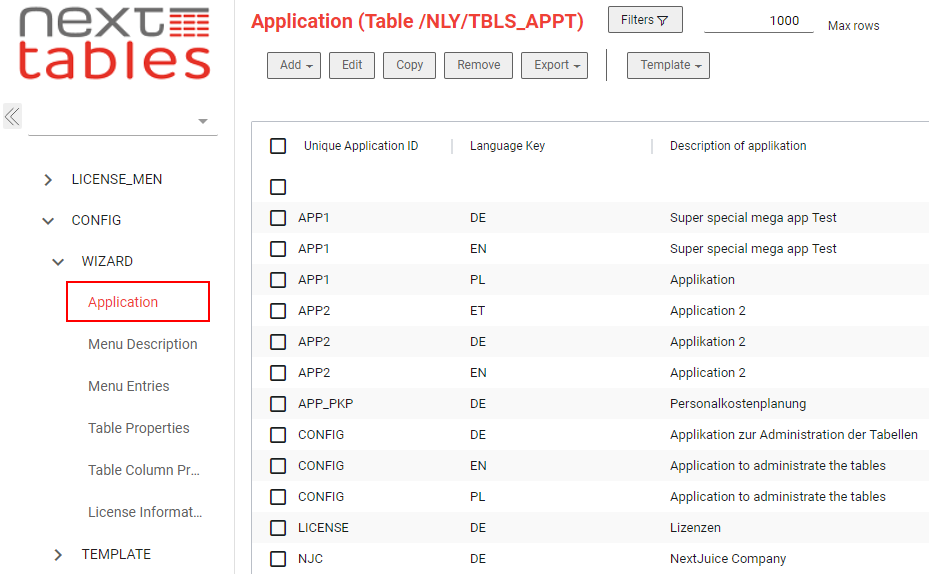 Menu Items
This table is used to define menu items. To include a new table in the menu, an entry must be inserted in this table. Using the field Item Type, you can create standalone menu items like folders or open tables through menu items.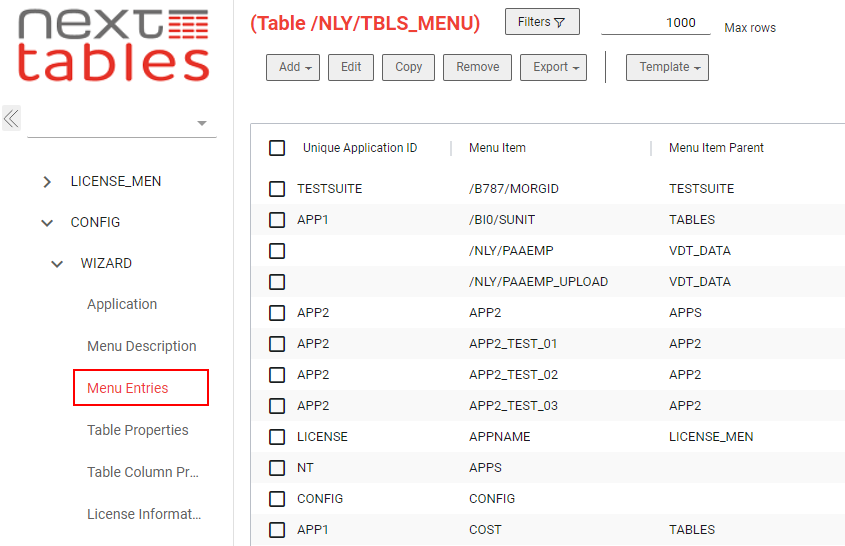 Menu Item Description
Using this setting, you can create user-friendly descriptions for menu entries, rather than cryptical technical names. For example, EXAMPLES_MEN → Technical Examples and EXAMPLES_DSO → Example DSO.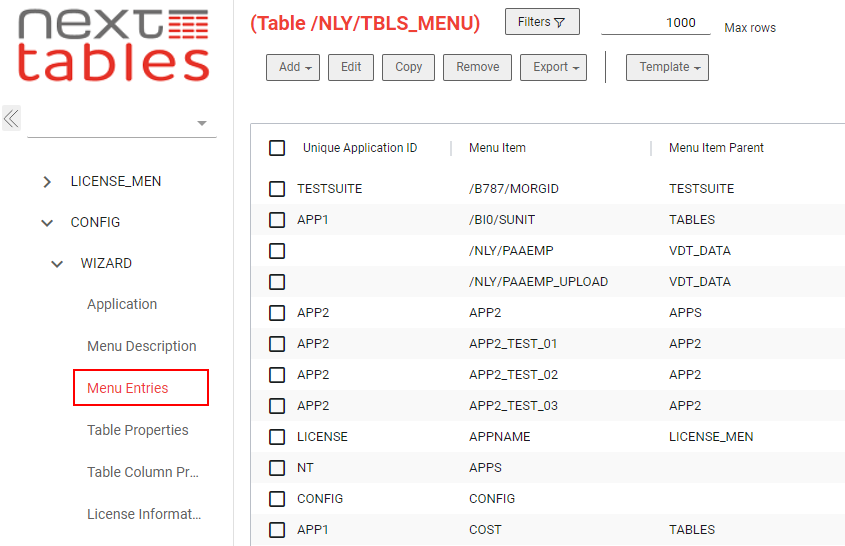 Table Properties
In this setting, various editing options of the tables are managed. For example, whether edit, insert or delete is allowed. Furthermore, you can enable and disable inline editing and local / global filters. An entry in this table is mandatory for all tables, which should be editable via NextTables.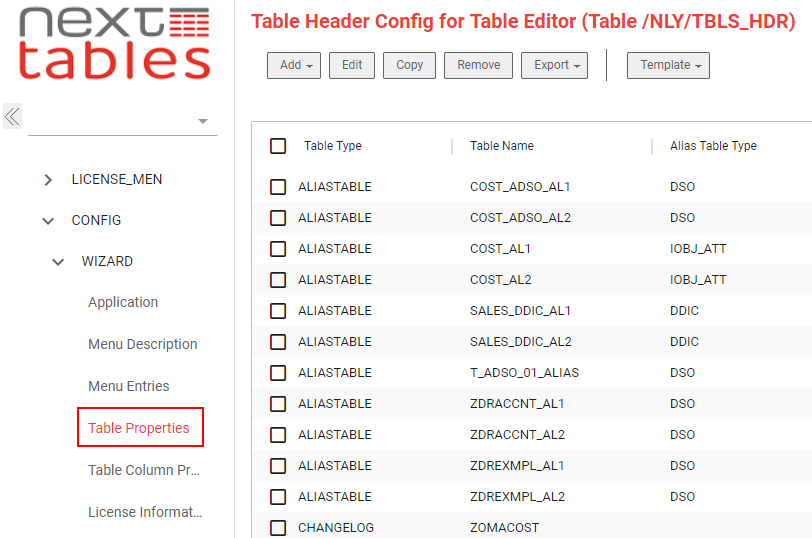 Table Column Properties
In this setting, individual fields of a table can be configured separately. For example, if you want a whole table to be editable, except one field, you can lock this field for editing. Here, you can also set properties like editability or visibility for individual fields.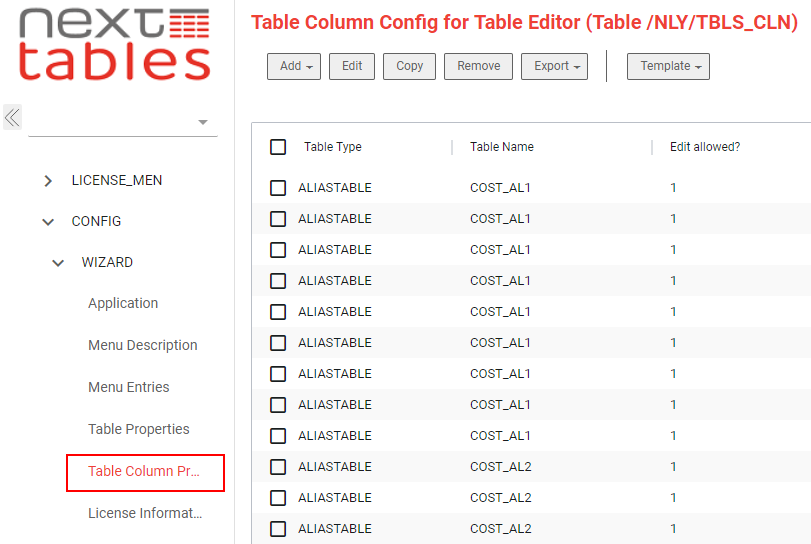 How to Create New Entries
In this section, I will guide you step by step through the configuration process.
Create New Application
In order to create a new application, select the Application entry from the Wizard menu (1). Then, click on Add → Insert single row (2) and provide a technical name, language and description for the application (3).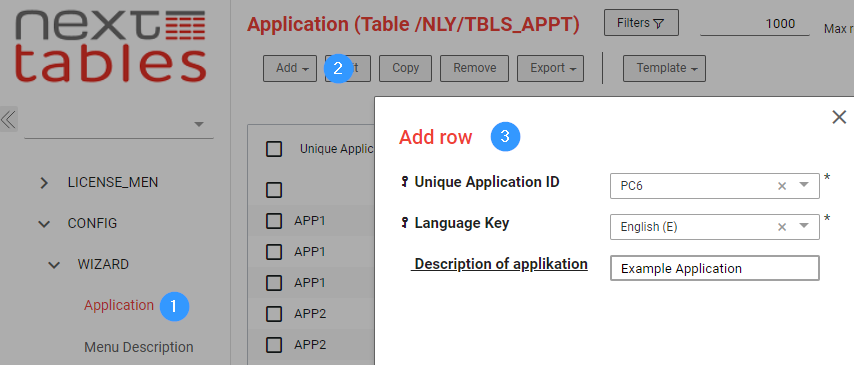 Create New Menu Entry
In order to create a new menu item, please select Config → Wizard → Menu Entries (1). Afterward select Add → Insert single row (2). In the Table Editor Menu (3), please provide the technical name for the menu item under Menu Item. Menu Item is a key field and cannot contain any blank spaces.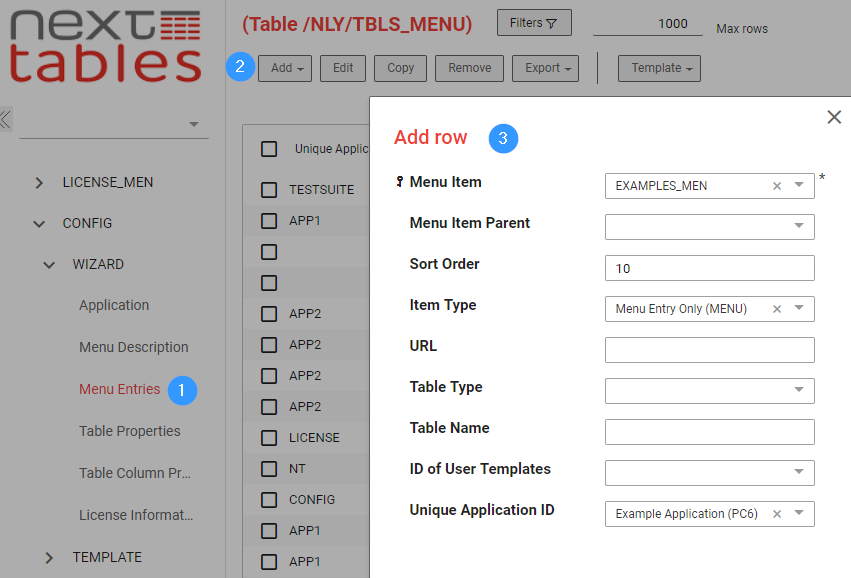 Under Item Type you can define whether the entry is a folder or a table link. Furthermore, you can define an item parent (folder) and the sort order inside the folder.
If the menu entry is a table link, please define the table type and the technical name of the table. Moreover, you can define specific user templates to be used by default.
All related menu items must be assigned to the same application. The transport between the systems is based on the Unique application ID setting.
How to Include an aDSO or a Table
Create menu entry for a table
In order to include a new Table or aDSO, you can follow the steps described above. Then, select Table Editor as Item Type.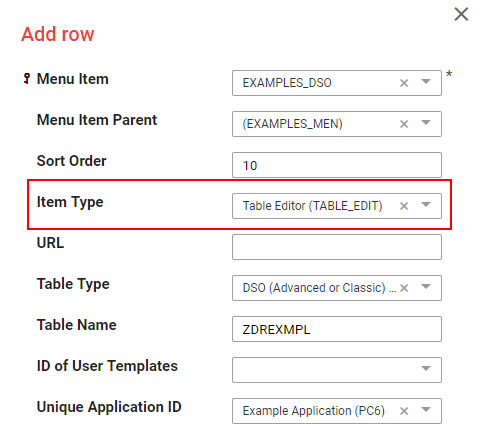 Configure Table Properties
In the next step, you have to configure the table header. You can define, whether the table as a whole is editable, whether user can add new lines or delete the existing ones. Furthermore, you can disable inline editor or turn the local and global filters off and on.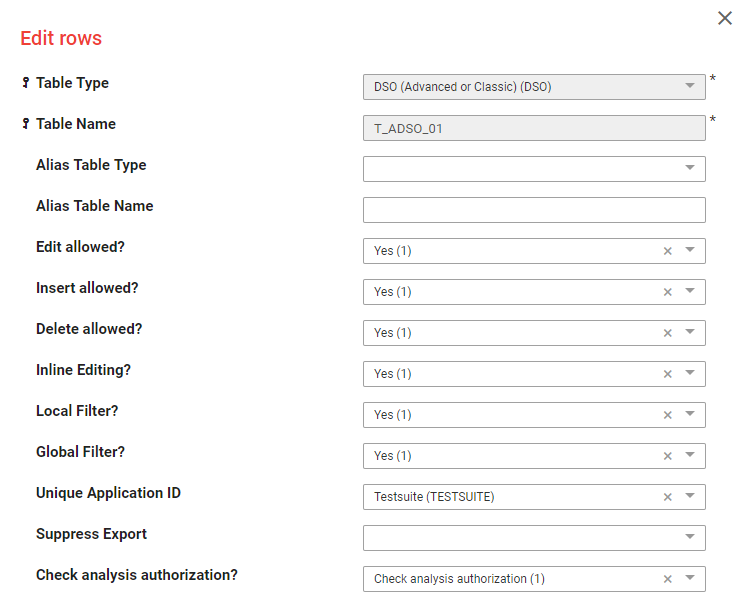 Field settings
After you have defined your table settings, you can set properties of individual fields, as described in the Table Column Properties chapter.