After setting up your NextTables application, as described in this article, you want to transport your settings to the productive system. In this tutorial you will learn how to transport NextTables setting across systems.
You can transport the application itself and also the menu items, descriptions of menu items. Moreover, you can transport the settings of the table and individual fields. As a prerequisite, all menu items and settings must be assigned to the application which is being transported.
In order to transport your settings from the development to the test and productive systems, please execute the transaction SE38 (ABAP Editor), select the program /NLY/EDITOR_CONFIG_TRANSPORT (1) and execute it (2).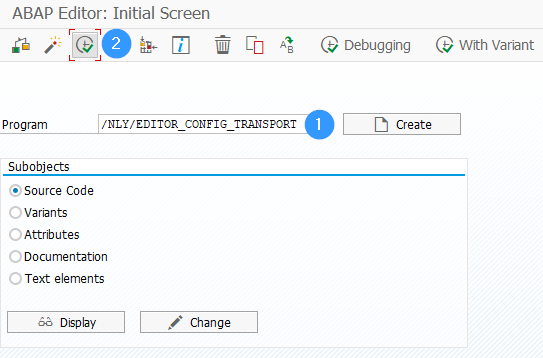 In the next screen, enter the application to be transported (1), for example PC6, and tick the checkbox Include Transport? (2). Afterwards, execute the transaction (3).

In the next steps, please select your transport request.

This creates a transportable program, which inserts all configuration entries of an application during transport in the target system. If necessary, old entries of the application are removed.